Since I was in the twilight of my six-month stint with DM Bowman and since I was from DC, my enterprising company prudently assigned me to a new route that pierced into the heart of the Nation's Capital.
It was hauling oversized loads from a warehouse in east Baltimore to the much-hyped Quadrangle building in DC. the soon to be a state-of-the-art 12-floor edifice next to the contemporary Warner Theater.
One of the innovative features of the Quadrangle is operable windows to allow fresh air into the elaborate offices. The motorized windows would offer an efficient, sophisticated heating and cooling system. The building's glass skin, with stainless steel horizontal panels and a vertical steel grill shrewdly work together as an external shading system.
What a sleek building this would be with an elegant skin respecting the tradition of Washington, but in a modern way reminiscent of avant-garde LA.
Since the windows were 11.5 feet wide, they were carried as oversized loads requiring a special permit and a specific route that took me all the way down south by the MGM in Oxon Hill, MD and then up 295 into the District. No, I couldn't take 50 into New York Ave, but I certainly wanted to. Believe it or not, there's a weigh station on 295, although, I've never seen it manned. Oversized trucks would park there from time-to-time before they rolled into the city after the mean morning rush hour.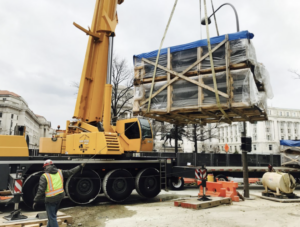 For once, It was nice to deliver a load into the District and convenient that I could stop home after to check my mail and take a shower before I headed back up to run another load the next day.
I made several trips during the week for three weeks. My fellow trucker, Phillip and I were the only ones who were dedicated to this load. Eventually, I trained another truck driver who rode co-pilot so he could see how we secured and get familiar with the route. My last day at work was fairly uneventful and I turned my truck in at the yard in Frederick, MD. But then I got a text from my driver manager. He asked if I could come to work on Monday. Since I was available, I agreed.
On Monday, after securing the load, I went over the Francis Scott Key bridge on I-695 over the expansive Patapsco River. Normally, I would take the last toll on the right since it was the widest, but today, that lane was backed up by someone not having the right change, so unfortunately my impatience got the best of me. Foolishly, I decided to take the adjacent lane to the left. As soon as I started to proceed, I began to regret my decision. And the impact hit me like a truckload of bricks.
To my dismay that lane was too narrow and my oversized load of 11.5 feet struck the pole that holds the EZPass LED display and bent it like a crooked branch. There was still a chance that I could squeeze through, but at the expense of my load. My instincts told me to stop, and for once I heeded my sub-par intuition.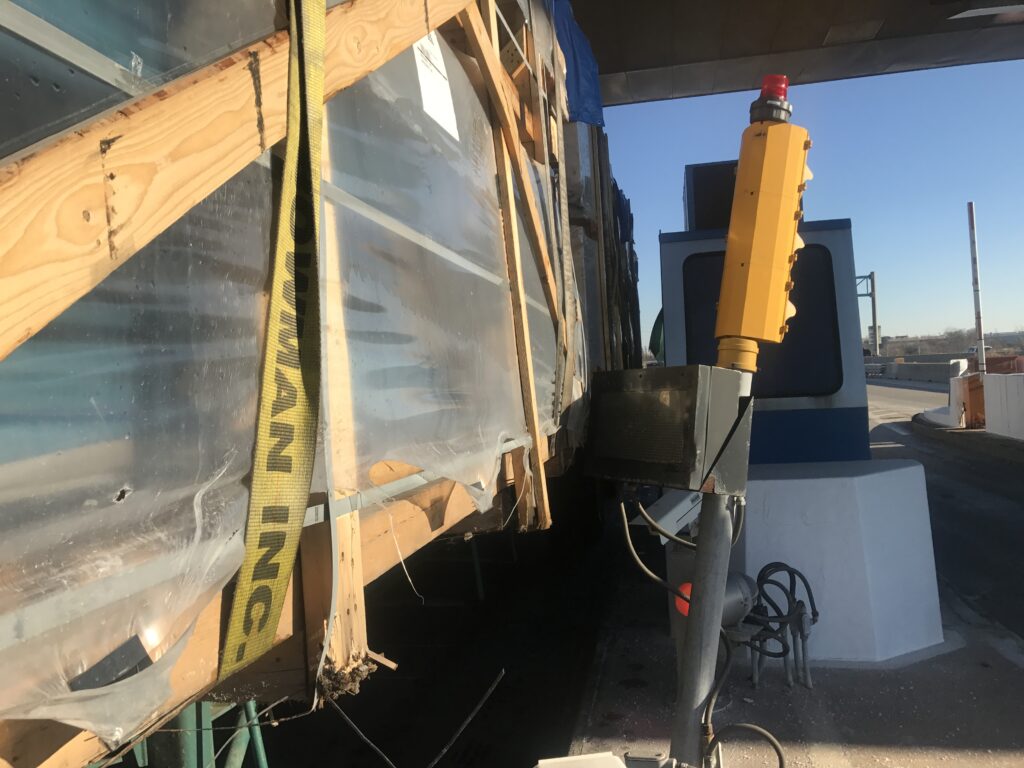 I held up traffic, scornful drivers who looked glaringly with disgust. Thankfully, The Maryland Transportation Authority was able to turn the display around rather quickly to allow me to go through.
The trooper, a large, brawny man so austere he could intimidate my drill sergeant, instructed me to pull over to the shoulder while he checked my license, registration and permits. And the clock ticked to what seemed like eternity as I made several calls to the Driver Manager and Safety Officer. Neither were pleased, but thankfully both were kind and tactful. I was ready for a severe scolding.
I thought for sure I would be facing a ticket – points, even a fine. But for some strange reasons the sun was shining bright, and the ticket gods were been kind to me that day.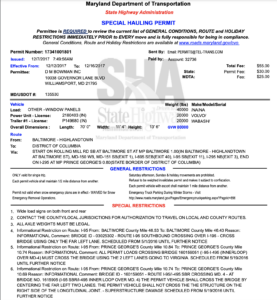 The permit was very explicit in directions from pickup to delivery. It instructed me to take the Key Bridge but did not state which toll lane to take.
"You should have known better," he scolded. "But since you were just following the letter of the permit, I'll let you slide this time."
I smiled and graciously thanked the officer, apologizing in the same breath.
Amazingly, I had lucked out! My last load with DM Bowman was also my first accident with DM Bowman – a small incident, and thankfully I survived relatively unscathed, but my ego bruised.
So I did finally deliver my load, albeit a few hours late. It wasn't damaged and to this day, you can look up to the top of the Quadrangle building and point out to the window that put a dent in the Francis Scott Key Bridge toll booth. You can't tell, but I sure got a story to tell.