Even before Western let me go, I got a call from a recruiter. "How would you like to drive a 2015 or newer model Mack and come home everyday?" "Sweet, who's the customer?" "Concrete Pipe and Precast (CP&P) in Jessup, MD, and they normally knock off by 4pm Monday to Friday."
"Wow sounds good. What's the pay?"
"If you work 5 days, we guarantee $800. There's also a chance to make a grand on a good week."
I immediately googled the company, fascinated by the notion of working with heavy concrete pipes.
As soon as Western gave me the pink slip, I called DM Bowman to accept the offer. The key is to act quickly before the company writes a derogatory report on DAC. Of course this wasn't the case, but that's what trucking companies do when drivers are terminated.
They're heartless like that and they would rather not have you hired by their competition. There's nothing more cut throat.
"So will I be assigned a trainer?"
"Well securing giant concrete pipes is no cake walk. So yes for the first two weeks your trainer will teach you the ropes."
"Wow, I better get in shape. Those 20 foot chains can get heavy and I gotta throw them over that bad boy." I heard a muted chuckle.
"Well I'm sure you're in decent shape now. If not, you'll definitely be by the end of summer."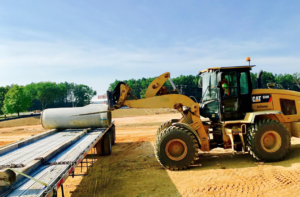 My trainer was Robert and he was the kind of instructor that resembled more a drinking buddy than a driving supervisor.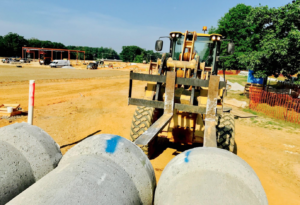 "Ok each pipe gets a chain. The chains in the front runs at a 45 degree angle to the rear. The chains in the rear runs at a 45 degree angle to the front. The chains in the middle criss cross each other," Robert instructed.
Now I watched as the master deftly worked the chains like a securement maestro. I took notes and lots of pics and by the second load, I was able to assist. By the second day, I was able to take the lead and by the third I was doing it all alone.
I was clearly starting to get the hang of things. But by the second week, my muscles twitched just by the sight of concrete and the rattling of chains. Robert worked efficiently, and the faster we delivered our two loads each day, the earlier we were able to get done.
We were normally done by 3pm, but sometimes as early as 1pm. This gave me plenty of time to grab a bite, drive home, take a shower, go to sleep and be back at work by 6am. The hardest part of the job was having to commute 45 minutes from DC each day, so somedays, I decided to shower at the TA and just sleep in my car.
It wasn't comfortable, but it guaranteed that I got to work on time. Jessup is located in Howard and Anne Arundel county, 10 miles south of Baltimore. It is the home of taquerias, taco stands and the largest Mexican population in Maryland. I'm a big sucker for street tacos and everyone who feels the same way knows Chef Rod at R&R Taqueria.
If you've grown up around Jessup, you may have visited Rod when he first started a humble hole at the side of a gas station. But when Guy Fieri joined him at Diners, Drive-ins and Dives, Rod was able to move up to national recognition. Now the taqueria is a famous icon in Jessup, along with Maryland Live!. Perhaps R&R has become too popular of a hang-out now. So I've gotten to try Los Antojitos just down the road.
The menudo is out of this world, but there's another dish that has captured my imagination – sopa de pollo.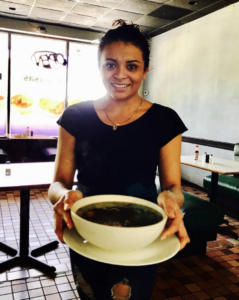 You obviously don't have to visitar un restaurante to get the chow down on authentic street tacos here. There are plenty of taco stands that prepare excellent fillings wrapped in a corn tortilla.
The street vendor that stands out is Taqueria Los Primos – it's so damn good they have two locations.
Hands down they are the best tacos in the area. For $10, I got two Al Pastor and two panceta (pork belly). Everything comes with a side of fresh radishes and cucumbers, along with grilled onions and peppers!
There's so much filling, my belly was full before I finished my pork delicacy. And they're so addicting, I returned the next day for more.
After a month of been spoiled by street tacos, I got a call from my Driver Manager.
"Hey Chito, how would you like to haul some steel?" "What do you mean? Isn't concrete hard enough?"
"Well we have an opening in the steel division, and perhaps you might be interested."
My saga as a flatbed truck driver continues with the next adventure.