The first day driving on I-81 was stressful but smooth.  I managed going up and down the hills with good speed and without any hitches.  The second day in Southwest VA and Tenn was just the opposite. I couldn't sustain enough HP to make it up any hill without chugging along like an overloaded RV.  Something was up, and it wasn't just the excess weight of the Amazon bestsellers bogging me down.
I-81 follows the spine of the Appalachian Mountains like a slipped rib. The drive in some stretches can be challenging to some and down right frustrating to others.
"It's not all that bad," says some truckers. I'll take 81 over 95 any day. Hills are better than crazy suburbia drivers in their SUVS and luxury sports cars, " I heard.
If you don't start the hills with a full tank of fuel, you can easily run low before things level out. That's because hauling a heavy load up treacherous Tenn hills can consume more fuel than you can ever imagine.
Heck I might even have to drive through the night – all the truck stops were filled to the rim. Then near Bristol, out of nowhere, an LED sign for Walmart towered over the freeway – a welcomed respite for the night.
Woke up first thing and ready to roll. There's a tough stretch on 81 where there's not a single truck stop, perhaps 60 miles at best. That's the situation I was in – low on fuel and feeling a stroke of desperation creep in. My meter read empty with the dreaded low fuel warning light and I had 30 miles to carry before a Pilot or TA came into view. My GPS indicated that there was a Marathon Gas station within 10 miles – a safer option, I thought. I called them to see if they could fit a big rig — they applied in the affirmative, but I know they rolled their eyes with sarcasm.
I pulled off the interstate. Why couldn't the gas station be right there. The Marathon was a good two miles instead and my heart began to race. My fickle GPS led me to a steep, windy road and I already started to dread the obstacles ahead.
My little red engine mustering all the power it could  had a difficult time climbing this ridge. All of a sudden, my 80,000 lbs rig came to a dead halt. Was my clutch slipping? Did I have a worn throwout bearing? Every time I tried to start the truck on 1st or 2nd gear, it would start to slide back and dangerously roll off the road into the looming ditch. In order to prevent this from happening, I had to slide into the next lane so now I was blocking traffic from both sides. Nobody was a happy camper, and I was none for the worse for their demeanor.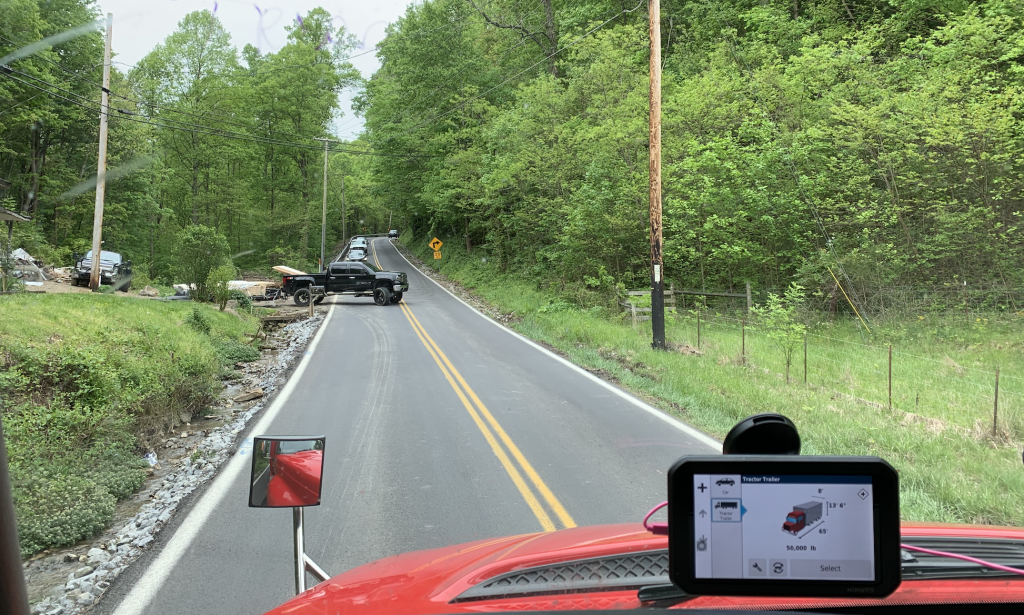 By now I had called a wrecker and already could envision the bill of at least $500 to pull me over the knoll.
Then seemingly out of nowhere, a barrel chested roughneck with a red, white and blue bandanna over his head stood by my door.
"What's the matter Trucker. You need help?"
I nodded desperately, hoping he knew how to drive a 10 speed.
"Alright lemme park my ram and I'll be right back."
It seemed like time had stood still, but before I knew it he was hopping right in.
"I've been driving these hills for over 30 years. I know 'em like the back of my hand. Now slide over."
I happily slid into co-pilot, praying God would lift me out of these hills.
Thankfully this Guardian Angel held the key — his secret was to lock both the differential and inter-axle on my tandems.  He then started the truck in 2nd and with finesse let his foot off the brakes like an adept pianist and then with military precision the truck started rolling in gear up. I could finally hear the little red engine chugging right along.
I thanked my trucker angel profusely and paid him a nominal tip. He was delighted to help and jumped off the rig while the truck was still in gear. Then I maneuvered the truck to Marathon Gas and Munchies Country Store like an attentive apprentice, thankful that I was no longer stuck on the long and winding road.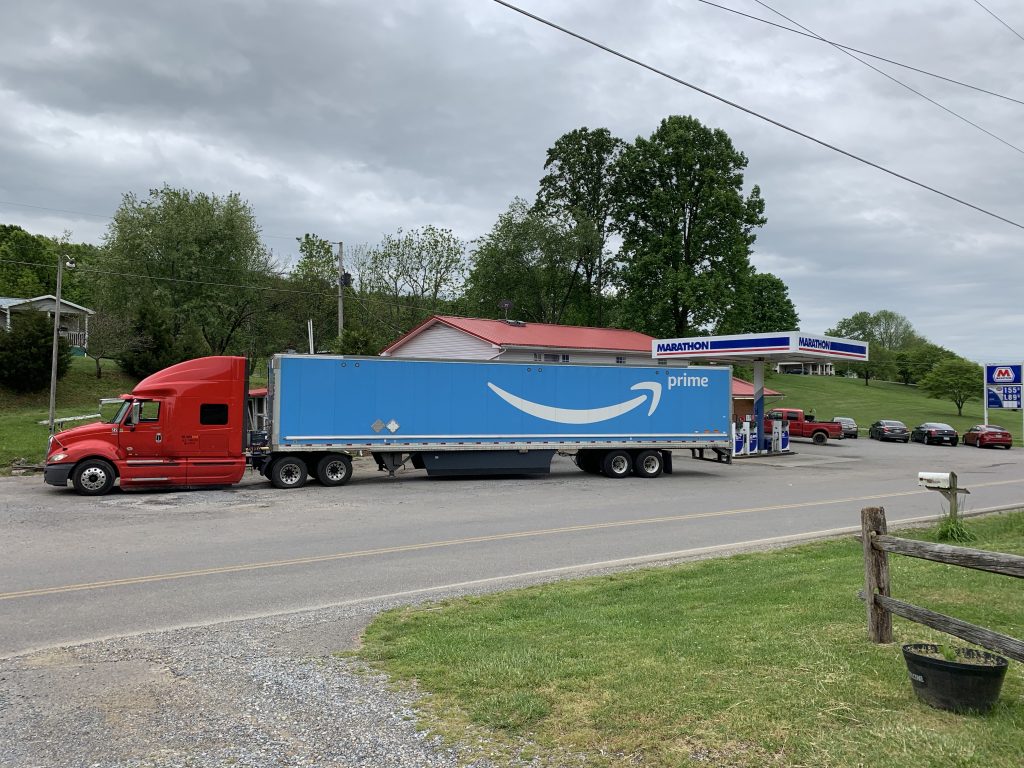 While fueling, I noticed that my front drive tire was flat. The tire was completely out of air and the bead had broken its seal. I was glad to have discovered it, and if it wasn't for running low on fuel, might have gone another 300 miles on the flat – not a good thing in these treacherous hills. I quickly inflated the flat but the tire wasn't holding air and would have to inflate it again at the next stop.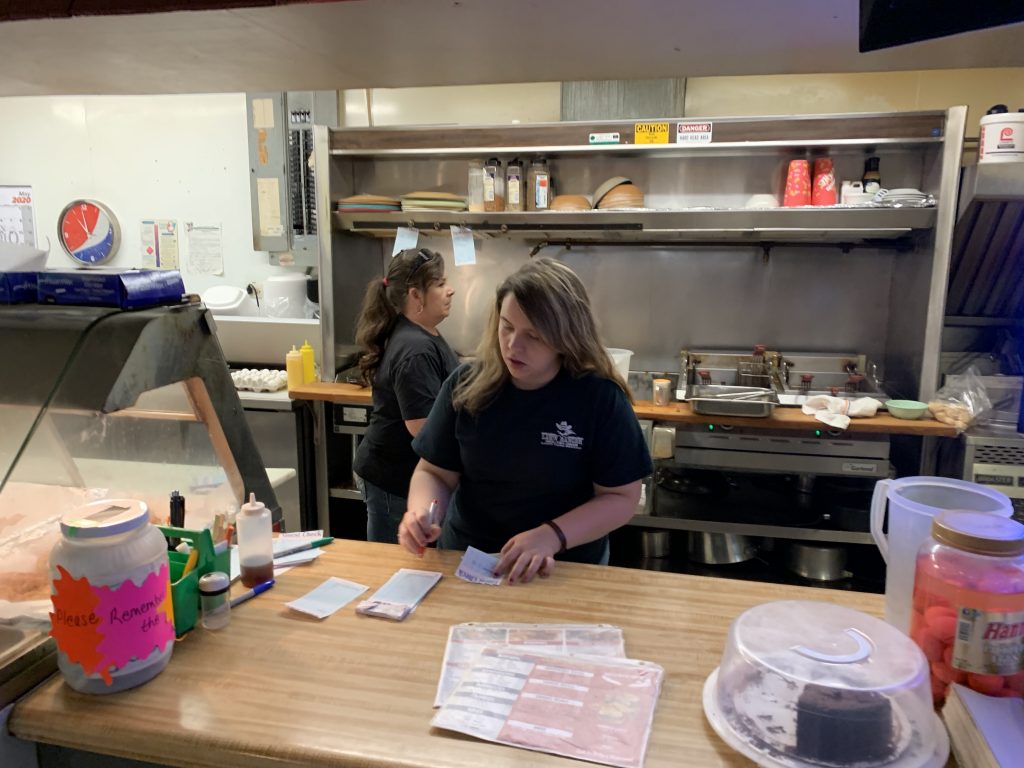 After fueling up, I was happy to get anything down my stomach. Ordered fried whiting, fried eggs, fried taters and grits. It was warm and wholesome. Best of all, I could actually sit down, take my time and enjoy. After getting stuck on the hill and stopping traffic, I think I deserved a breather.
Whiting Egg Breakfast @Munchies
The reason why I lost horsepower climbing hills was my clogged DPF (Distillate Particulate Filter).  This was caused by pulling a heavy load over steep hills, and overly fast speeds.
I was able to sustain my momentum for the first few hours until my DPF became clogged Then eventually I got a clogged DPF signal – no problem, I'll stop to do a Parked Regen.  100 miles later another one, then another one. 
Eventually I did three regens before the stroke of midnight — something was up. The third day, two more before 4pm.  They were spaced out further now – every 200 miles or so – I was feeling good.
Then 30 miles from Texarkana, a DPF warning signal that quickly morphed into a flashing signal within minutes.  Now it was going off like a siren. Then just like magic the signal disappeared and I thought the DPF had unclogged itself.
I was just a mile from the Pilot outside Texarkana when I got the Serious Shutdown warning signal.  Just like that, the emissions systems had bypassed the first three levels and gone straight to shutdown.
I was in a bind. I pulled into Pilot and sure enough the system would not let me do a Parked Regen.  I tried pulling fuses to get the annoying alarm to go off to no avail.  Then I decided to hunker down, put on my beats studio and drive through the noise.  Then suddenly and mysteriously, the alarm stopped and Level 2 returned.
I quickly parked and started the Regen which to my luck came on — I couldn't be happier I made it all the way to Dallas with only one more parked regen.  I was happy and relieved.
The next day, I set out for a load to Houston.  Within 30 minutes of leaving Dallas, the Level 4 alarm went off – didn't even start at Level 1 this time.  I had to drive the remaining 550 miles to Mobile with the damn alarm beeping like an air raid siren.  Surprised that I could tolerate it. I just put on my BOSE headset and zoned out the noise like it was the hum of the road.
I drove all the way to Dallas.  I was already booked for a load to Mobile so the next day I picked it up hoping for the best. Within 30 minutes of leaving Dallas, my DPF warning signal started going off like crazy.  I made it to Shreveport, hoping the alarm would go off the next morning. It didn't and I had to drive all the way to Mobile – 350 miles
I delivered the load the next day and the following morning on my birthday, I visited Ward's International. Luckily, they were able to diagnose the issue and cleared the warning alarm.  I was good to go for now but they recommended that I replaced the DOC which would set me back about $2,500.  I told them I would think about it – preferring to do this kind of work at the shop close to home.
Last summer, I had actually replaced my DPF and DOC, which only need to be cleaned every 100,000 miles.  The bill including replacing the EGR coolers tallied over 15 Grand.
Ready to return home, I started looking for loads on Amazon heading back north. I finally found something going to Richmond and I was pleasantly surprised that this backhaul would take me close to home.
Last year, Amazon launched its freight brokerage services in its move to gain market share. Instead of pulling their own loads from their warehouses to fulfillment centers, Amazon would use their trailers and wide pool of independent truck drivers to ship loads for third parties. So what looks like an Amazon load on the highway, may not actually be an Amazon load at all.
My one and only experience with their 3rd party freight brokerage service has been sadly disappointing (I've pulled over 25 Amazon loads). Yesterday I had contacted both Amazon and the receiver to get more information about the load. I wanted to know what the commodity was and the weight of the load. Neither were able to help me. Why – it was a 3rd party load.
I started the day (Friday) like any other picking up a trailer from their distribution center in Theodore Alabama and heading out to the address provided on their app. I had no idea where they were taking me. Relay provided no information other than the address and pickup time.
The address listed on the Relay app is incorrect. When I punched up the address on their Navigation system, it took me to a dead end street. I double checked it on Google Maps on my iPhone which took me to a high school on a dead end street. I found out later where I really needed to go is Retif Oil & Fuel which also has the same address.
I called Amazon and was transferred from one person to another – no one seemed to know anything.
Because GPS took me to an elementary school on a dead end road, I had to backup on Burroughs Lane blocking up traffic then finding a way to deftly turn around.
Dazzled and confused with customer service not been of much help, I had no choice but to return to the warehouse and drop off the trailer. Finally Relay called me back and gave me the shipper's phone number.
The shipper admitted that the address was wrong and the GPS wouldn't work. Then why would Amazon send me to the middle of dead end street with no one to talk to.
When the shipper informed me that the weight was 44,000 pounds, I quickly denied the load. Some trucks cannot carry this heavy of a load a long distance (850 miles) through higher elevation to Richmond, VA.
A typical Amazon load is about 10,000 lbs or less and is picked up from a warehouse or distribution center. Amazon needs to inform drivers if the loads will be heavy. Some trucks are single axle and are limited to 20,000 lbs on the drive axle. Some trucks have emissions or other issues that reduces their power on heavy loads over steep hills. Some drivers may not have the experience driving heavy loads over these same hills.
Without a doubt, Amazon needs to provide the right address. If the address is wrong on Google, then provide the exact coordinates of the shipper and the business name of the shipper, too. And finally if it's a 3rd party, the name and phone number for directions and coordination.
Note, I did my homework on this load. I did call the receiver in Desputanta, VA and informed him that I was delivering an Amazon load on Monday. Neither the receiver or Amazon Relay was able to provide any more information. Wish I had known this was a 3rd party load – I would have never accepted it.
According to Overdrive, Amazon has just completed its pilot program in five Northeastern states and has taken it's freight services nationwide.
"They want to own that market," says says Carson Kreig, co-founder of Convey. "to gather up capacity so they can dictate middle-mile rates."
The problem is that shippers who sign up with Amazon Freight may not realize that the truck driver that is dispatched is not an Amazon employee. Also the Amazon driver who is assigned the load may not realize that this is a 3rd party load.
It took a week before Amazon returned my services. By then I found a load to Houston and back to Mobile. From there I bobtailed to Jacksonville and signed up for an Amazon load to Richmond.  This one was not heavy and I did that without a hitch.
I was happy that the DPF warning light did not go off.  To my amazement, I only had to do a couple parked regens. Hopefully I'll be able to make it without having to replace my DOC.
I learned to take it easy on hills so I don't lose HP.  Maybe I should use better quality oil. I was due for an oil change, and was hopeful that this would help my situation.