Since my flatbed load from Norfolk to Florida got cancelled (2nd straight load to get cancelled), I was happy to find an Amazon load from Richmond to Jacksonville.
This would be tough since I would have to wake at 1am to fuel, shower and drive down to the distribution center in Chester. And this was a rush COVID-19 order so it would be a straight run on 95 to Florida.
Since Amazon has prioritized products to its fulfillment centers, it is mostly shipping medical supplies and household staples like sanitizers, mask and toilet paper. With a COVID-19 load, my House of Service would be waived.
These are the products that Amazon considers critical:
Baby Products
Health & Household
Beauty & Personal Care (including personal care appliances)
Grocery
Industrial & Scientific
Pet Supplies
Since many people are staying home, Amazon has prioritized these items to be shipped directly to the doorstep.
I've never driven from Richmond to Florida non-stop and I came close here. Actually, I could have easily done it especially since the the highway was clear. You saw truckers, but not the usual trail of snowbirds in their RVs.
I actually stopped in Darien, and Mom delivered some delicious homestyle cooking to me. I didn't have much time to rest especially since the load needed to get to grocery store shelves and finally in the hands of consumers who are depending on this for survival.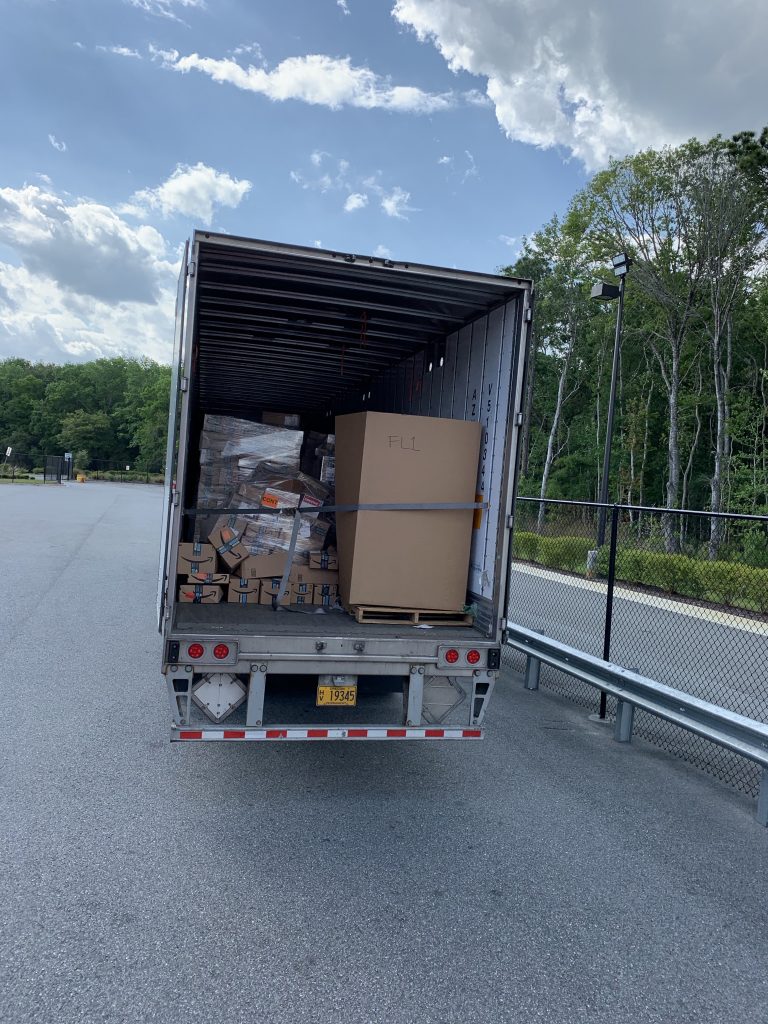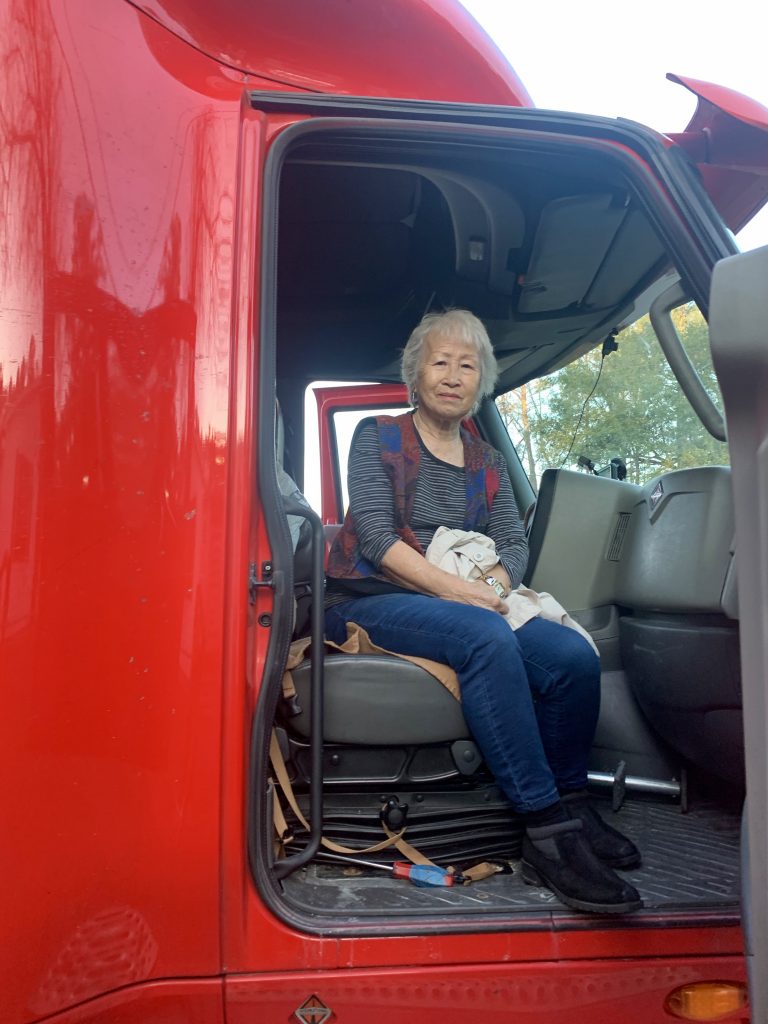 Normally when I deliver for Amazon, I come into contact with 3-5 people (sometimes with workers inside the fulfillment centers). This time, Amazon was enforcing social distancing and I didn't even need to come out of the truck when checking in with security.
Last year, Amazon launched its freight brokerage services in its move to gain market share. Instead of pulling their own loads from their warehouses to fulfillment centers, Amazon would use their trailers and wide pool of independent truck drivers to ship loads for third parties. So what looks like an Amazon load on the highway, may not actually be an Amazon load at all.
My one and only experience with their 3rd party freight brokerage service has been sadly disappointing (I've pulled over 25 Amazon loads). Yesterday I had contacted both Amazon and the receiver to get more information about the load. I wanted to know what the commodity was and the weight of the load. Neither were able to help me. Why – it was a 3rd party load.
I started the day (Friday) like any other picking up a trailer from their distribution center in Theodore Alabama and heading out to the address provided on their app. I had no idea where they were taking me. Relay provided no information other than the address and pickup time.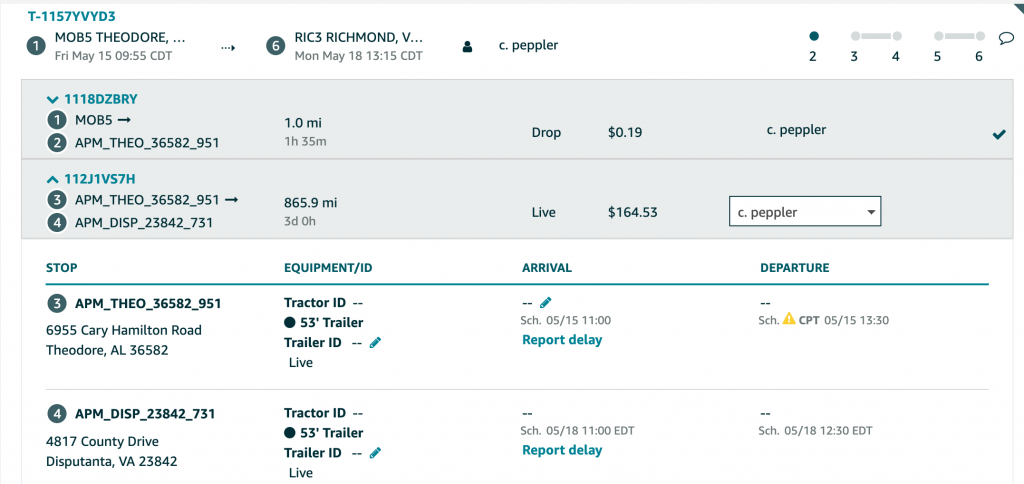 The address listed on the Relay app is incorrect. When I punched up the address on their Navigation system, it took me to a dead end street. I double checked it on Google Maps on my iPhone which took me to a high school on a dead end street. I found out later where I really needed to go is Retif Oil & Fuel which also has the same address.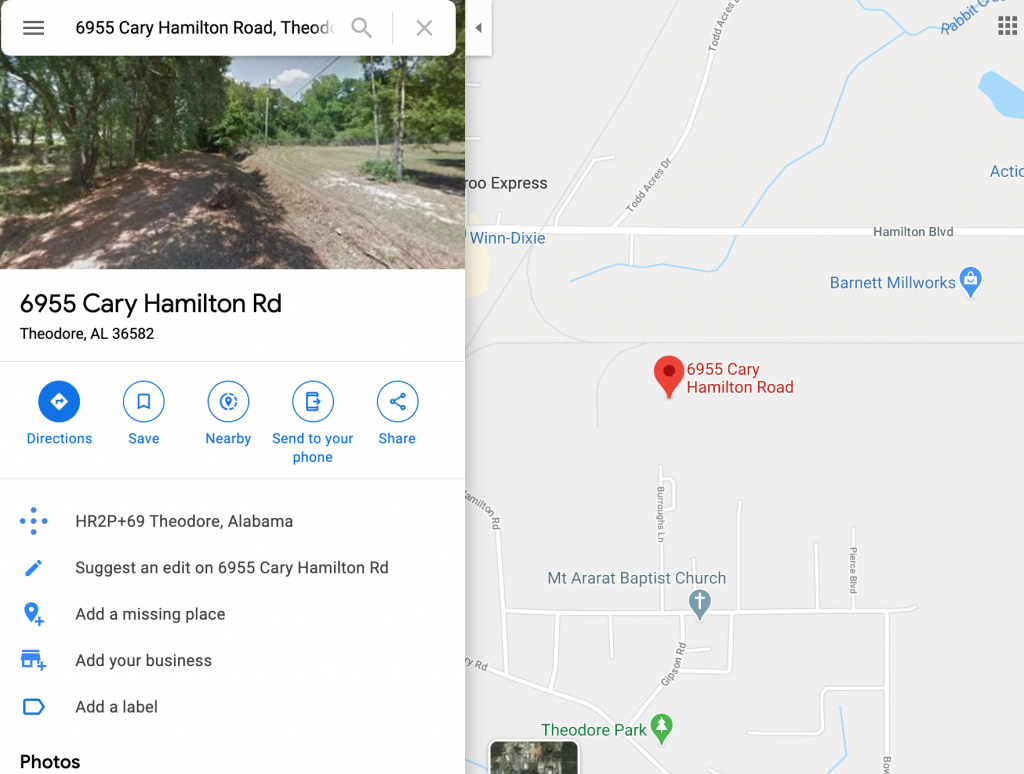 I called Amazon and was transferred from one person to another – no one seemed to know anything.
Because GPS took me to an elementary school on a dead end road, I had to backup on Burroughs Lane blocking up traffic then finding a way to deftly turn around.
Dazzled and confused with customer service not been of much help, I had no choice but to return to the warehouse and drop off the trailer. Finally Relay called me back and gave me the shipper's phone number.
The shipper admitted that the address was wrong and the GPS wouldn't work. Then why would Amazon send me to the middle of dead end street with no one to talk to.
When the shipper informed me that the weight was 44,000 pounds, I quickly denied the load. Some trucks cannot carry this heavy of a load a long distance (850 miles) through higher elevation to Richmond, VA.
A typical Amazon load is about 10,000 lbs or less and is picked up from a warehouse or distribution center. Amazon needs to inform drivers if the loads will be heavy. Some trucks are single axle and are limited to 20,000 lbs on the drive axle. Some trucks have emissions or other issues that reduces their power on heavy loads over steep hills. Some drivers may not have the experience driving heavy loads over these same hills.
Without a doubt, Amazon needs to provide the right address. If the address is wrong on Google, then provide the exact coordinates of the shipper and the business name of the shipper, too. And finally if it's a 3rd party, the name and phone number for directions and coordination.
Note, I did my homework on this load. I did call the receiver in Desputanta, VA and informed him that I was delivering an Amazon load on Monday. Neither the receiver or Amazon Relay was able to provide any more information. Wish I had known this was a 3rd party load – I would have never accepted it.
According to Overdrive, Amazon has just completed its pilot program in five Northeastern states and has taken it's freight services nationwide.
"They want to own that market," says says Carson Kreig, co-founder of Convey. "to gather up capacity so they can dictate middle-mile rates."
The problem is that shippers who sign up with Amazon Freight may not realize that the truck driver that is dispatched is not an Amazon employee. Also the Amazon driver who is assigned the load may not realize that this is a 3rd party load.