I glanced at the pictures and it scared me half to death. That beastly thing called a trailer looked more like terror on wheels.
What is a '97 Eager Beaver anyway – didn't look very eager to me. More like a dead skunk left to rot.
It was the long holiday weekend. Americans from the Atlantic Seaboard to the Golden State were gathering with friends, firing up the grill and celebrating the precursor of long summer days and lasting sunshine.
Overzealous holiday-goers closed up shop by midweek hitting the road, leaving me with be no loads to book. I would be grounded for days – might as well crack open a cold one with the rest of them.
"Can you bring her Monday," the buyer asked?
"Perhaps, gotta check her out first. Is she DOT-worthy?"
"Probably not. But if you get stopped, just tell the trooper that you're delivering the trailer and not putting any load on it," he assured me.
My friend, Bert, invited me to the Fleet Reserve Association Annual Picnic at Joint Base Anacostia Bolling, and I enjoyed delicious BBQ and Filipino food.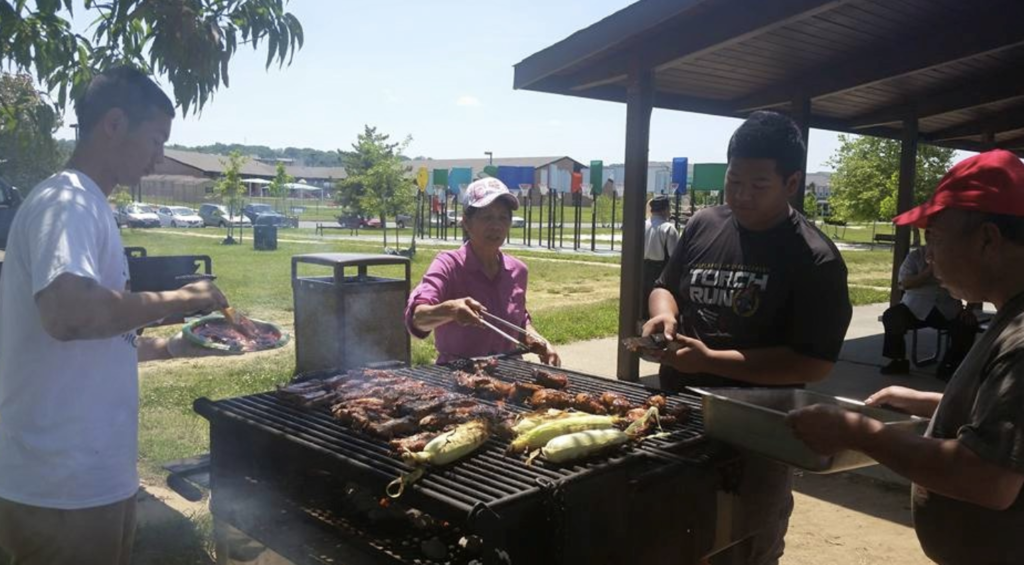 I waited till the Memorial Day weekend traffic had abated the day after to drive through the relentless rush-hour congestion to Ashland, a small town just north of Richmond. The trailer rested in a distant field that had not seen the dull blade of a mower in weeks maybe months.
As I approached with caution, the Eager Beaver looked weary and worn like death warmed over. Wild violet weeds had taken hold of the beast. A woeful mound of dirt and rocks embedded on the rusty steel frame could bury my feet ankle deep.
And the gooseneck kingpin leaned over like a dying geese, hadn't seen the light of day in years. Now I was tasked to resurrect her to be a road warrior.
"Call for a forklift," the shipper bellowed. Allen, the old timer redneck had been in the business since the day trucking became deregulated. He had seen and experienced just about everything that could possibly happen, good and bad, and he wanted this rusty relic towed 1,500 miles to the middle of Texas, and he wanted it there yesterday.
I summoned for help. The shipper dispatched a 4k lb forklift through the dusty fields which raised the gooseneck high and dry enabling me to back down underneath it and hitch up Then I made my way out of the twisty pig-trails and undivided byways of southern Virginia raising lifeless Lazarus out of the trailer tomb.
A couple hours later while cruising on Interstate 81, a dramatic bang resembling a distinctive blast of a shotgun. My heart skipped a beat, but I kept on pushing. Not now…It was way too early to break course. I would press on for another hour until the sun had set restlessly at a Love's in Staunton to confirm that the rear tire was indeed flat and I would be spending the night.
I texted Allen that I would have to change out the tire and the cheapest one available at the truckstop was a $500 Bridgestone.
Allen raised hell. " Just raise the axle", he snapped back. The old timer didn't wanna budge a nickel. He was already overpaying me $2,000 for this eventful excursion.
"Can't do that. The axle doesn't move." As long as it's touching ground, I have to change it. Don't want the inner tire to blow or get stopped by a trooper and get a ticket and points. It was way too early on this trip for things to start breaking down.
It was a long, monotonous drive the next day, the thought of pulling a prehistoric iron dinosaur
halfway cross country gave me the chills.
When I made it to Memphis, the hometown of B.B. King and the Blues, I decided it was time for a break.
It was hard to believe that I found a truckstop within city proper. A buck and three quarters was all it took to catch the MATA to downtown and before you knew it I was riding a vintage trolley to Beale Street
These trolleys, nearly a century old, were delivered from Australia and its service had just been restored after a couple engine fires in 2014.
I was excited to be here – hadn't been to Memphis since my early 20's and though the music is just as soulful, much of the city had changed.
Found a bar named after the 2000 hit Coyote Ugly replete with dancing bartenders wearing scanty outfits.
Upon wandering around and soaking the carnival-like atmosphere, I became a bit famished so I managed to grab a burger at Dyer's – not your typical grass-fed gourmet burger with mounds of fixings, but a thin, fried Southern burger deep-fryed in 100-year old grease. Even though it looks like its ready for the barrel, the grease is so treasured that it had to get escorted by an armored truck when the venue moved to Beale.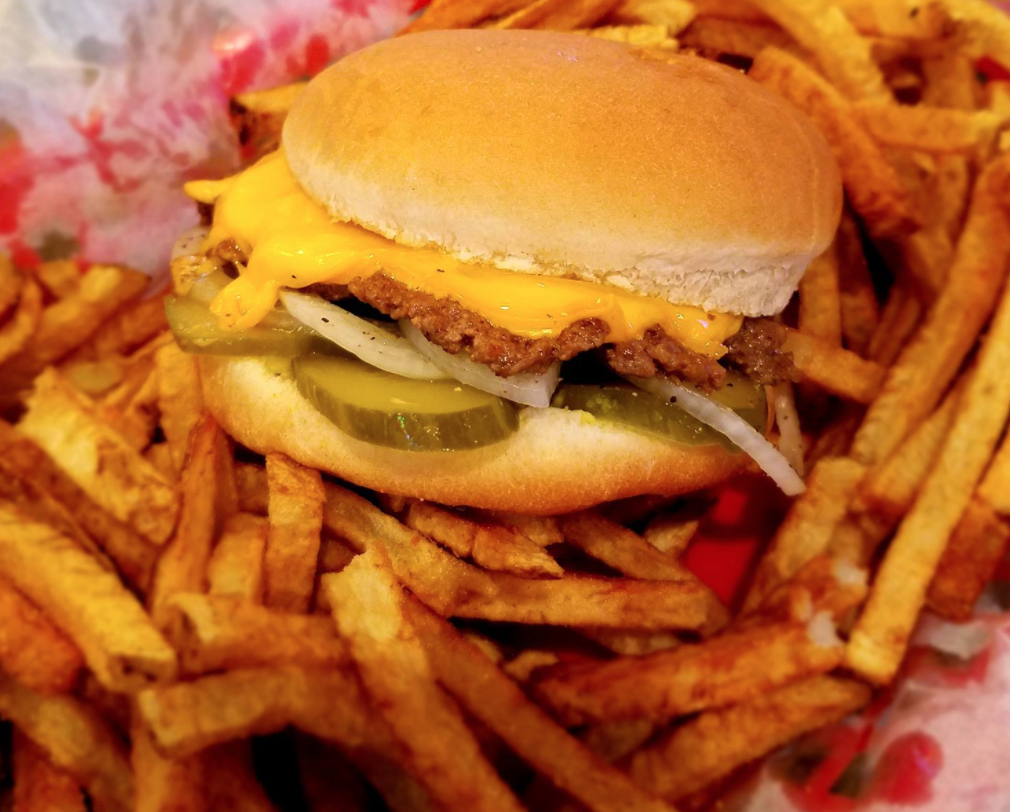 Had a great time, people wandering the street were approachable so I made new friends. But finally, past midnight and fatigue got the best of me, and it was time to return to my cab. A $12 uber ride and 15 minutes later I was tucked comfortably away in my cab-side comforter. It was great to see Memphis on a dime without having to shell out a couple hundred for a hotel.
The next day, I was determined to visit this Chinese carryout by the Airport appropriately called Wok 'n' Roll. I knew it was gonna be tough to enter and egress and I apparently wasn't ready for what lay ahead.
Actually I had no problem pulling in, though the bottom of my trailer scraped the concrete hard like a chisel. But pulling out that's where I got stuck, my truck on Winchester Ave, my trailer still sitting haplessly in the pockmarked parking lot.
It's times like these that I learned not to panic. People rushing home for the weekend were honking, pointing fingers and glaring angrily.
I coolly unhitched my trailer, pulled back into the parking lot and waited. Didn't need to lift up my phone.
Within minutes a couple of trucks pulled into the lot. In these parts of Tennessee, there are more wreckers than you can shake a stick at.
I was finally happy to get out of Memphis I stopped that evening in Little Rock – I heard that the Arkansas River was seriously rising and reaching crest in a couple of days.
Heavy snowfall followed by relentless rainfall during the year had caused the Arkansas River to swell like a bloated whale. The River had not seen water this high in a generation and it was threatening to get worse.
I posted a note on Twitter to see if anyone needed use of my truck and gooseneck trailer.
Anyone in Little Rock need help hauling sandbags. I'm volunteering my 53′ flatbed tractor trailer today and Saturday #littlerock #ARFlood19 @NWSLittleRock Pls call 202-378-7500
— Chito Pepper (@ChitoPepper) June 1, 2019
After no takers, I decided to press on a couple hours south to Texarkana, a town with a unique name that appropriately straddles two state lines just like Kansas City does with Missouri.
But unlike KC, Texarkana was more like sleepy hollow than the "Paris of the Plains." That was my first impression until I arbitrarily stumbled into Fat Jack's, located on State Line Avenue running right through two college rivals: Arkansas and Texas. Even though this local favorite has been feeding and entertaining Texarkanas for decades, it wasn't listed on Google maps. That didn't matter to locals, Fat Jack's was a local legend and well-known with out-of-towners.
As soon as I walked through the main entrance I was greeted by a cloud of smoke that drifted up to the corrugated metal ceiling. Standing in front of me, a large, burly man with the stature of a linebacker named Billy Bob took my ID card and raised five fingers.
"There's a cover tonight – we have a band from Memphis."
The covered patio was decorated wall-to-wall with local memorabilia. A couple guys and gals in blue jeans and ball caps were busy playing pool. Although I wasn't dressed for the occasion, I suddenly felt warm and cozy – surrounded by a dozen new friends who are happy to drink a toast with you or let you bum a cigarette for a joke.
And the bar serves more than comfort food. It's an oyster bar with a twist of Cajun, catering to locals and passer-bys driving south from Memphis or north from Dallas who heard it through the grapevine and passed it on for generations.
They love the Arkansas Razor Backs and cheer them during every game. Even college baseball is watched religiously like it mattered. And they pay homage to their alma mater with a large boar head greeting loyal fans clad in red and cardinal.
I approached the bar – one side saying "Go Hogs", the other saying "Hook Em' Horns"
"What's good here?" I asked.
"We're known for our oysters, crawfish and jambalaya," said Joseph, a friendly bartender who offered a warm handshake.
"How are the gator tots?"
"Great, how bout the trifecta: shrimp, oysters and gator?"
Sure enough, the oysters were lightly breaded, hot and juicy. And the gator tots were tender and succulent.
I ordered a side of dirty rice which was brimming with fresh sausages and beans – it was simply the best dirty rice I had outside of the Big Easy.
Black and White and photos of life and living in the heartland adorned the walls. A collage of Jack Mills, aka Fat Jack plastered another wall. At the bar, both Shiner Bock and Diamond Beer were readily available on the tap and overflowing in frosty 25 oz beer mugs.
There was a Country Western band playing that night. The artist picked his Gibson acoustic strings like he was Johnny Cash reborn. His voice had the sweet, scratchy sound of Hank Williams.
My palate was content and I was soundly in my elements. Once again, I learned not to judge a town by first impressions. There is much life after sundown in Texarkana and as I sipped my Shiner chased down with a shot of hickory smoked whiskey, there was nothing better than the rhythmic sound from a honky tonk strumming away.