The phone rang, and it was my recruiter – she had been calling for weeks, and I finally took a deep breath and accepted the call.
"So what's keeping you from working for Western Express?" she inquired with uncanny determination.
"Thanks for asking, but I have to organize a 13-mile charity run in DC in mid May, and I need to be home a couple of weeks in advance to plan and organize," I mentioned, hoping this would do the trick.
"Don't you have someone you can delegate these responsibilities to, or are you a one-man band," she wondered.
"Yeah, unfortunately – this is my baby, and I've been going solo ever since she was just a twinkle in my eye."
"No worries," she assured. "Hop on a bus  to Bethlehem, and we'll get you trained, tested and released for home with plenty of time to spare," she reassured, making a huge assumption that things would go off without a hitch.
That sounded encouraging. "Just how much training would I need?" I wondered.
"Well, looking at your DAC report (Drive-A-Check), I see that you have four months of experience with Coastal Transportation.  So we'll just require three days of indoctrination and a week of cargo securement flatbed training, both at our Bethlehem yard and then a week on the road with one of our road-hardened trainers."
This sounded very doable. Even though I had my reservations, I didn't see any reason not to give it a shot.
"BTW, how come you were at Coastal for just a quick second?"
"Well, I got fired for going over 67 mph on a downhill. Does Western have the same restrictions?'
"Nope, we're not that strict. We give our drives lots of freedom. Just don't do a U-turn, and you should be ok."
My week with my trainer was one of the most mentally agonizing experiences since I spent a month "cranking" serving as a food service attendant onboard a U.S. Navy Knox class frigate.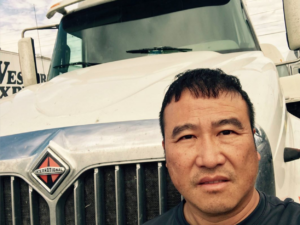 My trainer, Trevor, reeked of old cheese and bacteria. He never took a shower the entire week, and he probably didn't brush his teeth daily, the few ones that he still disposed, albeit rotten and decayed.
First thing he did each morning, he combed his thick mass of hair with old-school Brylcreem, gobbled a huge wad of chewing tobacco filled his thermo flask with dark, roasted coffee and he was good to go.
Put bad hygiene aside, he was worshiped by Western like he could blind side alley dock in his sleep. And he could put in the miles and run out his clock each day.
Trevor was a million miler and he won numerous awards for no preventable accidents, though he loved screaming at four wheelers and called every women driver who tested his mettle with the C-word.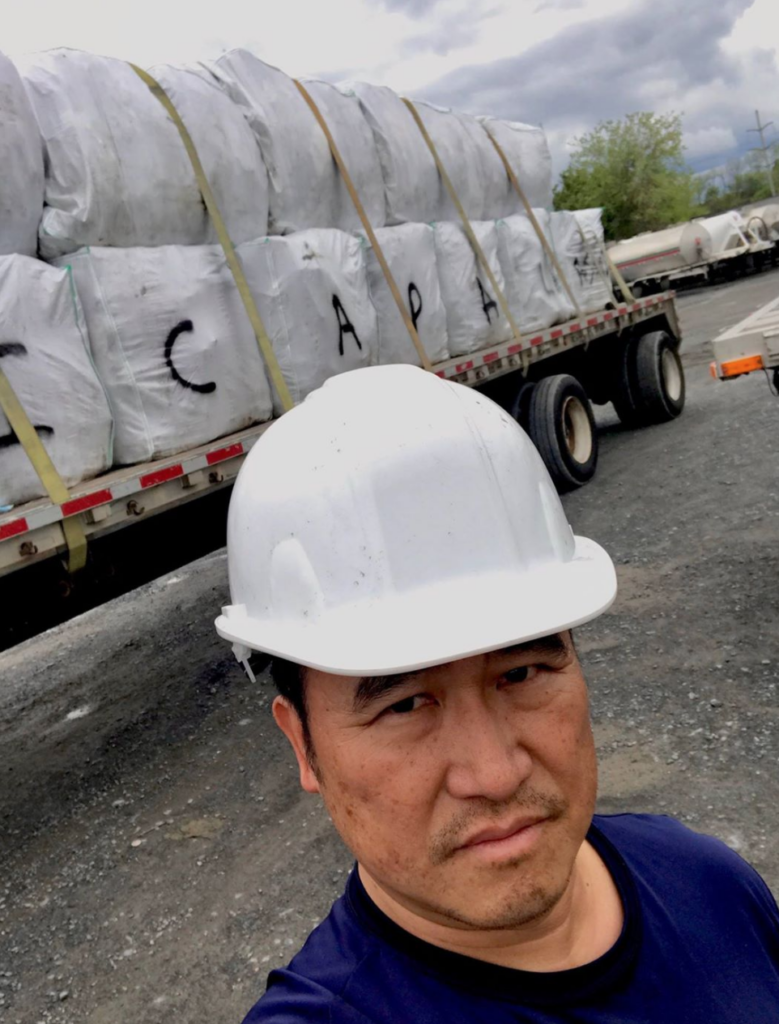 During the seven days we spent on the road together, we were busy – teaming up and hot bunking when we needed naps.  To this day, I don't remember what was worse – smelling his foul breath when he yelled like a banshee or sleeping next to his sheets that smelled like a dead rat.
After our last load to Bethlehem, we celebrated by going to his favorite local dive bar. But it was actually me that was celebrating freedom from the filth, both the hygiene and the language.
The Funhouse is a cool spot with lots of character. As soon as I walked in, the manager, Derek greeted me and asked me what I wanted to drink.
"Magic Hat," I replied with an air of coolness.
"And what would you like to eat – we've got hot dog, fries, wings?"
"Ok, wings – a dozen – deep fried and naked please for me and my trainee, Chito."
"You got it, Naked hot wings and #9 coming right up."
I looked around and admired all the pictures on the wall of musicians who have performed here over the years.
"Yes, Talking Heads, Start Making Sense and the Killers got their start here," said Tommy. "They start here and then move up to the Wind Creek Event Center."
There's so much knick knacks and nostalgia hidden in these walls. Each headshot and clipping had its own story, and I could easily imagine a grungy tribute band playing here surrounded by students and locals jamming out on a Monday night.
I walked out to the back porch – it was a chill spot with several college-aged kids hanging out.  This is the quintessential college pub – drinks are budget-friendly and the place is tight, dark and reeks of booze & smoke.
There's a pool table where music aficionados can congregate and interact at the same time.
"Nice shot," I commented as the cue ball executed a nice side spin squeezing a dark solid into a side pocket.
When you open the door to the bathroom, you stare straight at the toilet. So if you need to take a dump, please lock the door. The restroom is so tight that when you open the door, you actually have to straddle the john to close the door.
That's alright – at least you can keep an eye on the pool game while doing your thing.
Derek's shift was over and a lady dressed like a cocktail waitress came in looking all sultry and coy.
"Hi, I'm Tammy, another #9?"
"Yes please. So are you from here?"
"Originally from Dallas, but I've lived here and worked here now for nine years and never want to leave."
"Wow, what do you like about this place?"
"There's so much history here. As the name suggests, the staff and customers love to have a good time. Even if that means acting silly sometimes. And the owners, Chris and Tina are great to work for. They're like family to me."
"Super, Trevor and I are celebrating our week of team driving together. He's officially given me his blessing and now I'm ready to take over his load."
The next day, I got in my Subaru and headed home to DC – just in time to organize another fabulous run.
The unique aspect of the EU Embassy Run was that we visited over a dozen embassies while running 13 miles.  While most people had to wait in long lines to get in, we got head of the line privilege.  And the best part we got to partake in the food, drinks and culture from each location.
The run started eight years ago on a whim. I coerced a couple friends and the run has blossomed into a public event with a loyal following.
After the run, I rushed back to Easton in my personal vehicle.  The recruiter was right – I could return home to organize my big event and back to finish up training.
The only thing left was my test drive around town and a couple of backing maneuvers in the yard.
The test went well, but my tester, John, recommended I take a 3-day backing training.
"No worries. In fact, I was looking forward to it.  Who wouldn't welcome more training."
On Saturday, May 26, 2017, the Lead Examiner came to pick me up along with all my luggage from the Days Inn Easton and dropped me off in the Bethlehem terminal to pickup my truck.
"I thought I have backing training," I asked.
"Well we decided to waive this training and assign you to your truck immediately," he replied.
Since this was a three-day Memorial Day weekend, I was instructed to stay in my truck and wait until Tuesday when my Driver Manager would contact me and issue my first load assignment.
After completing the walk through, getting a few things fixed and then signing out the truck, I drove to Nazareth to the Western Express terminal in Nazareth to park the truck.  The truck had been cleaned out, but no amount of baking soda could eliminate the smell of urine – hopefully the previous driver had a K9 co-pilot.
As instructed by the Lead Examiner, I was to stay and watch my truck through the three-day weekend.
Thankfully I brought my car with me so I returned to Easton to grab some dinner.
My first stop was Antonio's Pizzeria, just across the street from the Day's Inn where the other Western trainees stayed.  The pizza is to die for and the beef pies are out of this world. But being a creature of habit, ordered my usual Fettuccine Alfredo. And boy was I happy camper. Pat's alfredo sauce taste like creamy, cheesy heaven. The way he cooks his pasta, al dente – chewy and firm and not overcooked. The sauce was so thick and smooth, coating the pasta perfectly.
In the evening, I headed straight to my favorite hangout, Rivals Sports Bar.
Sure enough I was greeted by an affable fellow by the entrance – not the bouncer but just a local yokel who was "quick with a joke or to light up your smoke."
"Hi, I'm Chito," I smiled broadly.
"Nice to meet you. My name's Zach," he said as he offered his hand.
"So you gotta check out the show tonight"
"Really, there's live music here?" I asked incredulously, surprised that anyone would be performing on a Thursday night.
"Yeah, his name is Heart Headed – Ricky Dum Dum. Amazing acoustic. He even sings and drums and makes shit as he goes.
"Wow, can't wait to hear him perform. How do you know him?"
"I've seen him around town, at local bars here and there. We've drunk together many times before. Easton PA is a small town, and so Allentown isn't much bigger."
"Oh cool, so I see you're from here. What do you do?"
"I'm a painter," Zach replied proudly.
"That's a tough job – it's hard work for sure. Do you like it?" I could see his shirt and jeans were speckled with dried paint of many colors.
"Absolutely," he replied as he held up his PBR amicably.
I quickly eased myself in. I walked around the U-shaped bar. After a few minutes getting reacquainted, I finally found an empty table. A youngish couple with shots of bourbon going bottoms up and then jovially headed for the door.
"Welcome to Rivals. I'm Kristy by the way. What are you having?"
I ordered a Tröegs Perpetual IPA paired with an adult slushie – tropical flavor double spiked with vodka.
Kristy makes me an adult drink, one of nine different flavors @Rivals Sports Bar
Sure enough, Zach was spot on with his review on the entertainment.
Ricky aka Heart Headed was a skilled guitarist and multi-talented singer and percussionist He knew where on the guitar to tap to generate the right sound. There is nothing like strong drinks and live music – something I haven't experienced in a century it seems.
I walked up to the stage and bumped fists with the talent. "So, what's your secret?"
"Time. Lots of time with it. And pickups. Two. In a parallel series, 1/4 inch output. One braided and one hummbucker. They capture the body and strings," replied Heart Headed.
The next day, I decided to power out some strokes on the fast-flowing Delaware River.  I was happy that I brought my Stand Up Paddle Board (SUP) with me and I looked forward to rejuvenating mind and body.
Paddle boarding in the Delaware River at the edge of the Easton Dam
A selfie on a SUP board on the Delaware River
I was approaching the dam, when I noticed a park ranger in his truck looking at me at the landing a few hundred yards away.  I should have ignored him and continued downriver, but stupid me, I decided to return to the shore.  As soon as I landed, the ranger returned without a second to spare.
"Do you realize you could have gotten killed in the falls!" he exclaimed.
"No, I didn't officer, I didn't see any signs. I'm sorry for getting too close," I responded gingerly
"Well, there are signs 2oo feet away.  Don't know how you could have missed them. If you were driving, you wouldn't miss a Railroad crossing sign would you?"
I meekly accepted the ticket, wondering if I would receive points on my newly-minted CDL."
Subsequently, I returned back to the river, this time giving the dam a wide berth.
The rest of the weekend, I just laid low and tried to stay out of trouble.
Finally on Tuesday, I received a dispatch from Tom, my Driver Manager to contact him. I then informed him that my CPAP machine was ready to be picked up at the VA in  DC at which point he allowed me to return home in my personal vehicle. He also instructed me to pick up an abandoned Western Express tractor in Baltimore, MD and drive it back to Bethlehem.
__
After I picked up my CPAP and making preparations to drive to Baltimore to pickup the abandoned Western Express tractor, I received a call from Melinda not to pickup the truck and to catch a Greyhound back to Eason PA ASAP.
When I arrived in Bethlehem, PA,  Melinda informed me that I would need to take a three-day backing class, despite the fact that I had already been assigned a truck for a whole week. A backing class should be exactly what the name implies — a one-to-three day class to refine backing skills.
While I waited for my backing class, I continued to keep my possessions in my assigned truck and spent time in the truck while waiting for my trainer who was always busy with multiple assignments.
I was looking forward to taking a two-day backing class because I wanted to improve my backing skills.  Backing is a skill where every driver, young or old, always needs to improve and refine.  My trainer would not have released me from the week of on-the-road training if he wasn't satisfied by my skills. 
The backing class should not be used as a means to discriminately eliminate trainees since this is what the 3-day indoctrination, the 3-day in-house flatbed training and the 1-4 weeks of on-the-road training time with a qualified truck driver is intended to do.
On Monday Jose was so busy that he could only give me training for 1 ½ hours after I waited all day.  I waited in my truck at the Bethlehem terminal all day for Jose who was busy doing other tasks. Finally, I ran into the Safety Officer at the terminal. I explained to him my situation and that I was wasting time just waiting around for Jose. The Safety Officer empathized with me and agreed to test me on my backing.
The first two backing maneuvers were perfect. I conducted two difficult alley dock backing maneuvers in two different locations in a very busy terminal satisfactorily, within time and with no incidents.
At which point I felt I had satisfactorily demonstrated my backing skills to the Safety Officer. He then surprised me by directing me to do a Blind-side alley dock maneuver.
I was very surprised when the Safety Officer then asked me to do a Blind Side Backing.
Blind Side alley dock is a maneuver that Western Express doesn't teach. From my indoctrination to my on-the-road training, all my trainers instructed me never to attempt it since its challenging, risky and thus should be avoided. As instructed, I never once attempted the Blind-side alley dock backing maneuver.
Additionally, both the Lead Examiner as well as my Backing Class Instructor told me that they don't test trainees on Blind Side Backing.
That's why I was shocked when Why the Safety Officer asked me to attempt it. Perhaps he wanted me to attempt Blind-side as extra credit since I already satisfactorily completed two sight-side alley docks.
The role of the Tester is to also serve as the spotter and to prevent the trainee from hitting anything.  As the name implies with Blind-side, the driver cannot see where he's backing into and must rely on the mirrors. Thus a spotter is always required.
That's why I was shocked when the edge of my trailer nicked the side of the truck behind me.  It was the job of the Safety Officer as the tester and spotter to ensure this would not happen.
The Safety Officer made it appear like it was my responsibility when clearly it was his, and he had failed in his role.
Shortly after this incident, the Safety Officer informed me that I would be released from training.  He told me to call the Western Express claims line to report the incident and asked me to turn in the keys to my truck.
Not only did I have to take all my shit from the truck that I just spent time cleaning (second one, mind you), but I had to find a way home.  I had 4 duffel bags of clothing and gear, which I wouldn't be able to easily take onto the bus.
I was astounded since I was asked to do a maneuver that I was not trained to do, and no one else was tested on this. Federal law requires that everyone should be treated equally especially with testing.  I would be reporting this incident to the EEOC.
This was not the first time I was terminated by a trucking company.  Coastal Transportation fired me the year before for over-speeding – going more than 67 mph on a downhill.
I have no problem with them firing me but they wrote on my DAC report that I was unsafe and now I'm unable to find work — In actuality, they didn't have to say anything because it's a company policy — not DOT's.  Frankly, if I couldn't work for them, they didn't want me to work  for the competition.
Its questionable whether going over 67 is unsafe because normally after a downhill there's an uphill and you need the momentum so that you don't slow traffic behind you
Also not all trucks are the same. Forty percent of Coastal's trucks are the newer MACs that don't overspeed as easily. The rest of us have the old Internationals that do.
So if the company is going to fire us for over speeds, then they need to make sure that everyone gets the same type of trucks.
At any rate,  welcome to trucking.  Firing & quitting are two common practices. No wonder, companies have a hard time keeping driver's seats filled.
So as soon as I left Easton, I stopped at the state capital and filed a complaint with the EEOC.  The office was responsive and readily took my report – they would get back to me in a few months.  Meanwhile I had to look for another job