My flight from DC to Savannah had a long-ass layover. I was headed to my 10-day load securement training with Coastal Transportation (CT). Flying United, this wasn't out of the ordinary, except the stopover was a 1,000 miles from from where I wanted to go. United's hub is in Newark, and the Jersey airport on the other side of the Hudson Bay is only a hop, skip, and a jump from the Big Apple.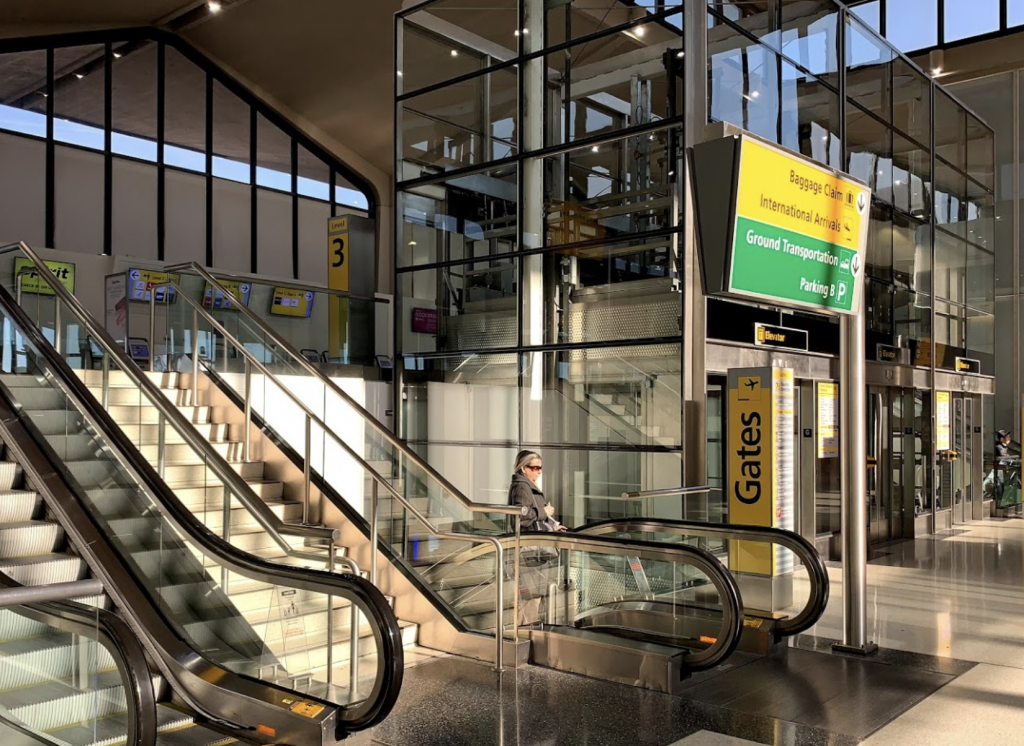 I checked into Hertz Gold and was surprised to get a huge upgrade. Not just a larger vehicle, but a luxury Mercedez Benz GL-450 SUV with stunning leather seats and wood trim.
"Hey Stace, I have a surprise for you!" I texted.
"Super, looking forward to seeing you. Can't wait to see the surprise," she immediately replied with a smiley emoji.
"Great, see you after work. Meet you at 5 at the 'Crossroads.'"
There's no business like show business, and that's why there were tens of thousands of tourists swarming Times Square that evening. Since Stacy worked in marketing, she was amazed at how much it costs to purchase advertising just for a day.
"$50,000 – that's the price of a one BR condo in Upper East Side," she mentioned.
After walking for a good half an hour, we worked up a voracious appetite.
"Ok, Stace, this is nothing like cheung fun at Toni's – we're actually going to eat semi fancy tonight," I revealed.
Nestled next to "The Phantom of the Opera" at the Majestic is the diminutive China River. From the outside, this spot looks like any low-key Chinese eatery sprinkled all over the city of 8 million.
But once you step inside and study the menu, you will discover that China River boasts authentic Sichuan food with all the bells and peppers.
There are tons of dishes to choose from, depending on mood and hunger. You can also choose the level of hotness you can tolerate. Whether you like to have your lips numbed by fiery peppercorn or you prefer to have your taste buds scorched by chile oil.
For the first round, I had the Dan Dan Noodles also known as spicy Szechuan noodles. True to its name, it was spicy & sour and a bit too oily for my liking. Every time I slurped a few strands of buckwheat noodles drenched in ground pork and chili, I would redecorate my shirt like tie-dye.
Contrary to what you may think, the dish is not named after Chef Danny Bowien of Mission Chinese in NYC. Instead "Dan Dan" is the carrying pole that street vendors in the Sichuan province use. They place the ingredients, bowls, chopsticks & cookwares in two baskets tied to each end of the pole. They cook and serve the noodles in the street whenever stopped by customers. What started in small towns throughout Sichuan is now a popular Szechuan dish enjoyed by Szechuan fanatics everywhere.
After dousing my tongue in ice cold water and wiping off my chin of Sichuan pepper and chili oil, I was ready for Round 2
Since I'm adventuresome, I went with the Diving Fish Pot. It's an entire fish soaked in Sichuan broth with peppercorn, leek and kelp. The fish was so tender, the sliced pieces melted in my mouth like molasses. I paired the dish with brown rice and enjoyed digging into every part of the fish until every bit of morsel was consumed.
Stacy ordered Crispy Pan Fried Noodles with Beef . Though this is a very common dish, it was surprisingly good. The crunchy fried noodles had a crispy texture and thick gravy over the finely sliced pieces of beef was heavenly indeed.
The place has three levels including a fully equipped bar with tall bar stools. All the drinks in the menu looked appetizing, especially the popular Tsing Tao Mojito – lime, rum and a bottle of beer flipped upside down. I call this the Tsing TaoRita just like the famous and refreshing CoronaRita.
So after sipping on hot tea to cool down our scalded tongues, we walked hand-in-hand to the luxury SUV and proceeded to Brooklyn.
I absolutely love driving over the Brooklyn Bridge – the views are so breathtaking.
"Yeah, I run over this bridge, sometimes." Stacy mentioned. "They have the love locks here – couples engrave their names on the locks and throw away the keys."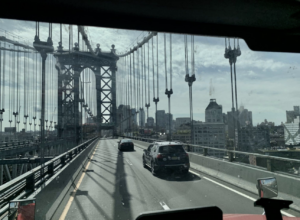 "I wonder how many of these relationships are still strong?" I said teasingly.
"If it's like most couples I know, not long – there just a'int no love in New York City."
"Well, for every one or a few that split up, there is always one that lasts a lifetime," I affirmed.
Stacy loved the beach. As a young child, she would visit Coney Island often with her sisters. Summers in Coney Island usually ring with the sound of screams from roller coasters and playful shouts from bumper cars and spinning teacups.
After walking around Luna Park, we were ready to head back to the city.
When we parked in her hood, I reached over to grab something from the back seat.
Stacy waited anxiously I had something up my sleeve.
"So I want you to hold on to this for me until I come back," as I pulled out a brand new Macbook air in mint condition.
"Wow so sleek and slim," Stacy oohed an ahhed as she rubbed her hand on the box still in the wrapper.
"So glad you like it – 6 core with 16 MB of RAM."
Suddenly reality set it. "Wait, why don't you just bring it with you?"
"Because I'm going to Trucking School in Savannah and don't want to bring it, in case it will get stolen."
"You're entrusting me with this high-priced mac – what a huge responsibility."
"That's because I like you and have great trust and confidence in you," I surmised.
"Ok, no problem, I'll hold it for you until you return. I promise I won't open this."
"I appreciate that. And I know your laptop is on its last leg. So if she ever craps out and you need something on a pinch, I would understand if you had to use it for work. But please before you do, let me know."
"You got my word."
"Great communication is essential for a strong relationship."
With that, I felt ever more certain I met someone I could count on. And I looked forward to returning to see her in 10 days.