I Kennedy Center
II Warfield Truck Stop
III Lost & Found
IV The Tow
V Band's Visit
The drive through DC was nerve wracking to say the least. DC is very walkable and pedestrian-friendly and on this day, like on any given Sunday, loads of tourists flocked to the Mall to gain some historical insight in the nation's capital.
They' didn't give a crap about cars and buses – they damn sure didn't give a sh*t about trucks. They walk wherever and whenever, even if that means walking in front of something big and powerful as an 18 wheeler, and we couldn't stop on a dime.
I knew to avoid 295, the BWI Parkway. Just like in NYC, parkways were scenic, for commuters and often had low clearances. So I took 50-West into downtown which turned into New York Ave. Right in front of the Carnegie Library (now the Apple store on Mount Vernon Square), I made a left onto 7th which took me through Chinatown, passing the friendship arch to my left.
Then I hung a right on Constitution. The pedestrian traffic was thick and unforgiving. Luckily there were no parades or street festivals – just your typical Sunday in the psychotic Nation's Capital.
From Constitution, I passed the White House guarded to the brink with the Secret Service, then veered right onto Virginia Ave with Simon Bolivar the Liberator from Venezuela providing cover.
Then it was important to keep my head on a swivel because there is a low clearance of 13 feet.
When I pulled into the Kennedy Center, I was surprised that big rigs could park in front of the majestic home of the National Symphony Orchestra.
Seems to me that a venue as fancy as the Kennedy Center would have loading docks and a place to load trucks far and away from the well dressed crowd in party jackets and cocktail dresses.
When I arrived, there were already several trucks parked neatly in a row. Even though I was running 15 minutes late, I would have to wait several hours before they started loading my truck. I had plenty of time to kill. Wondered why I even rushed in the first place.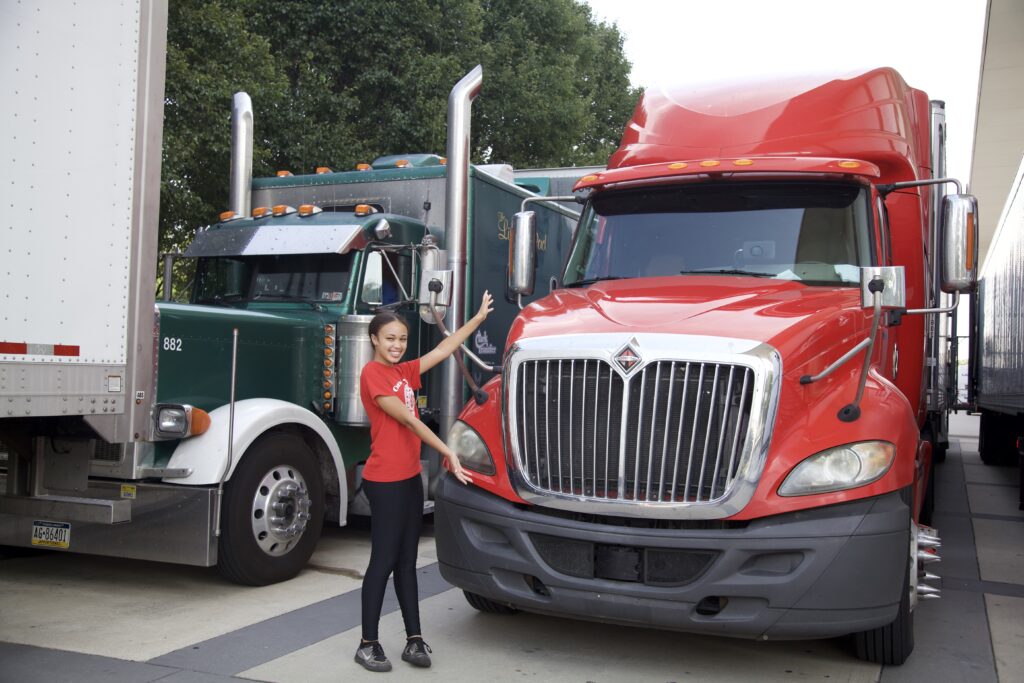 There was still another performance to show and then when the curtains were drawn we would have to wait for the audience to dissipate before we could even start the forklifts.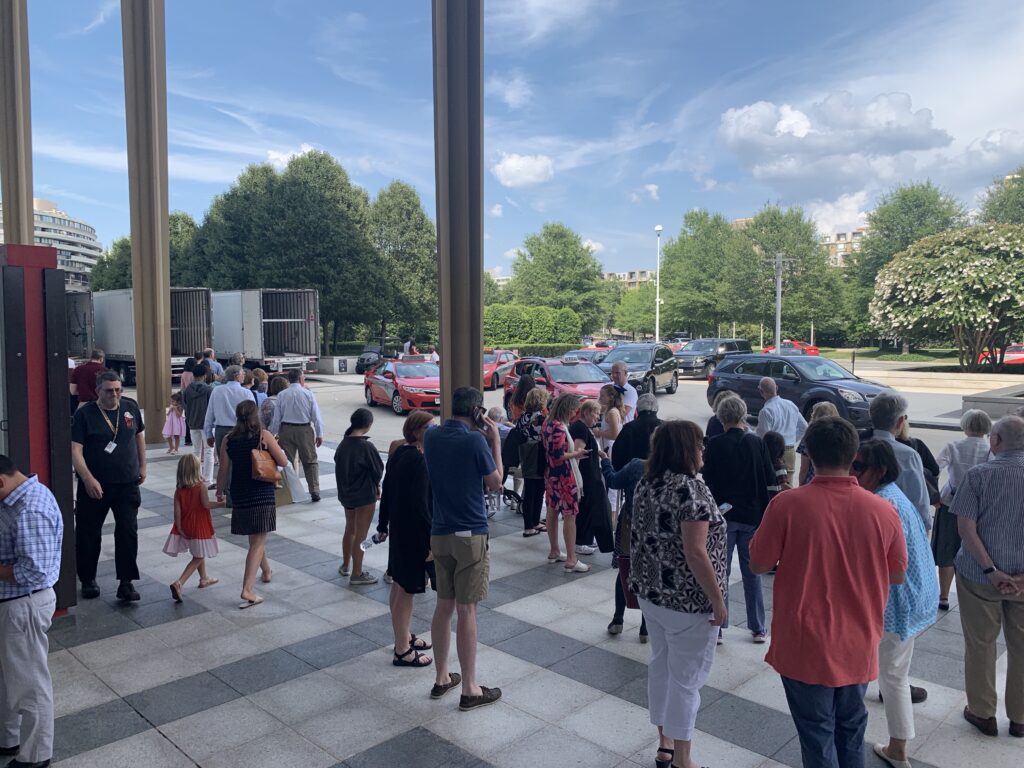 So what is there to do while we hurry up and wait. Not a thing except to walk back and forth and look busy. I took the liberty to walk around the theater and to meet other truckers. Truckers that worked for Clark Transport who hauled for shows full time seemed to be paid well and enjoyed it. They were getting $10/hour detention time – no one was complaining. It was their lifestyle, and they got to see many shows.
"I wouldn't be driving trucks if I was driving freight," said John Thomas. He was one of seven truck drivers waiting in front of the Kennedy Center Performance Arts in DC.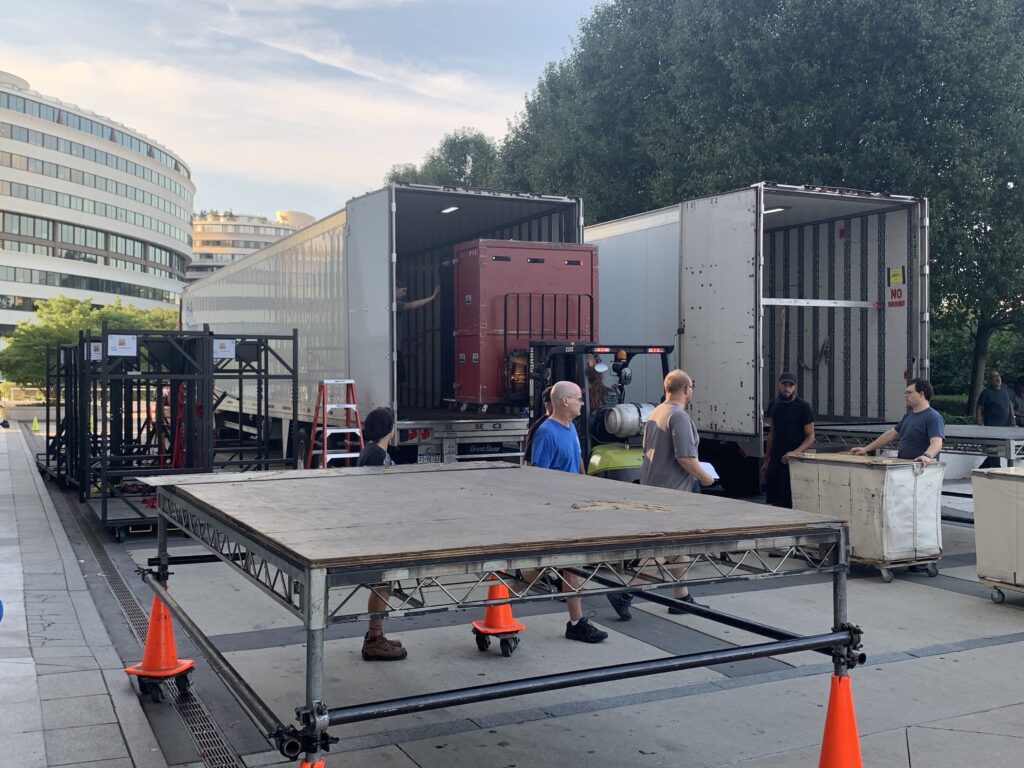 But still I wasn't grumbling. At least I was in DC at the world famous Kennedy Center.
The lead trucker, Toy, was very helpful and not only gave good instructions, but kept us entertained throughout the whole operation.
Eventually, a security guard directed me to park on the far left side of the Kennedy Center. I thought that was odd, but I happily complied.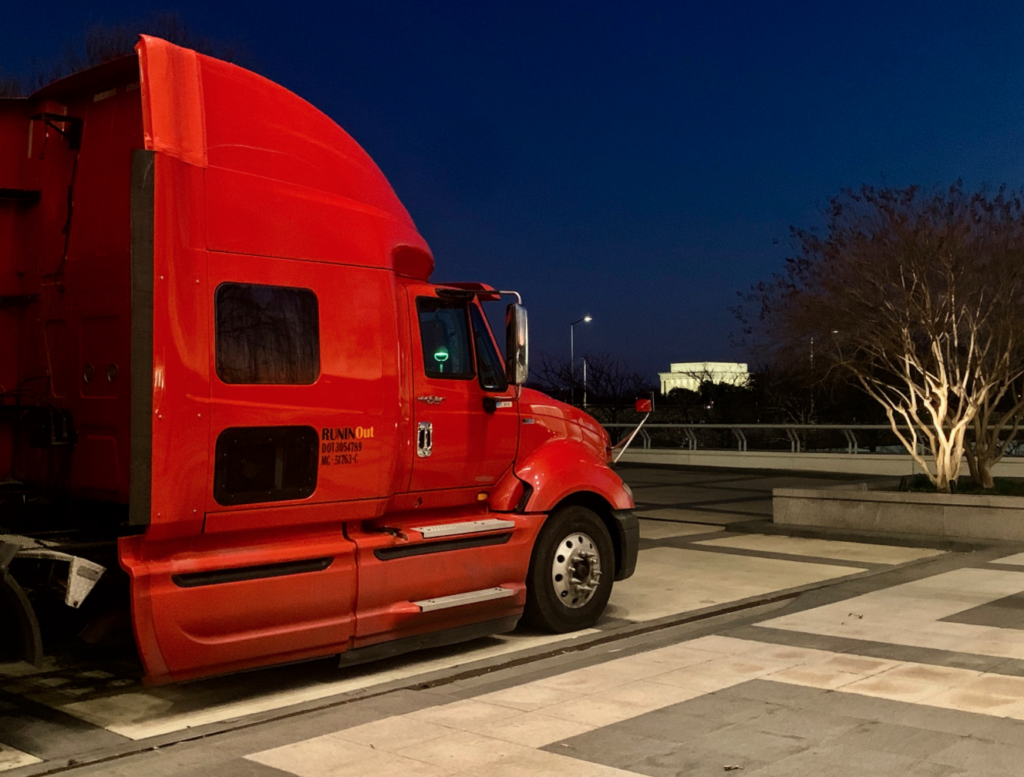 I also had a chance to amass a good view of The Reach – the Kennedy Center's first major expansion in nearly 50 years – 4.6 acres of performance and green space with expansive views of the Potomac.
When I was finally loaded and the skies had long turned dark, I made my way back to Virginia and Constitution then hung a right on 14th.
I knew I couldn't make it to Charlotte without taking my 10 hour break. My goal was to make it past Richmond to avoid the rush hour traffic in the morning.
II Warfield Truck Stop
I was relieved to make it to Warfield at the Davis Travel Center on I-85.
I was safe now and could sleep soundly all night – or so I thought.
At 3 a.m. I was rumbled from a deep sleep from the sound of an explosion. Why are my tires popping I thought to myself.
I looked out to see a big rig on fire. It was only 50 yards away, but seemed alot closer. I felt like I was in the middle of a Fast and Furious movie set with Dwayne Johnson as the star.
Seven fire trucks responded and it took nearly an hour to extinguish the fire. Needless to say with all the noise and commotion, I wouldn't be getting much sleep that night. So I took out my phone and recorded the ordeal.
I still had to deliver the trailer in Charlotte the next day – the show must go on.
The next day after uploading the videos, I got a call from News Channel 6, a Richmond news station who used my videos in their story.
III Lost & Found
After delivering the trailer, I had a couple days of layover, so I decided to visit the city – I found this club called Lost & Found.
She caught me staring from the corner of my eye. I quickly turned away nervously and looked down with a slight smile. This happened a couple times through the evening until she just walked over and looked dead in my eyes. This time, I couldn't avoid eye contact.
"Come here often?"
"Umm, no, I'm not from here," I replied awkwardly.
"How did you find us?"
"Well, I'm a foodie, and I'm discovering new cool places all the time. And I drawn by the cool music and hip crowd."
"Well, good, I'm glad you found us – Lost and Found."
"So how long have you been working here?"
"As long as the place been open since last fall. What's your thoughts?"
"It's an interesting spot with a lot of feminine touch. Can't decide whether if it's a bar or club."
"Neither. It's like a nightclub with VIP tables and speciality cocktails. It's like a bar cuz we've got the Hornets on the big screen. But really it's more like a lounge – an awesome place to chillax and meet new people."
I looked around at the living room style seating area and millennials enjoying exotic beverages in the patio soaking up the sun.
"Can't agree with you more. This is quite a rad spot."
"So glad you like it. I'm Amy by the way."
"Oh, Chito." I replied abashedly, realizing I had turned into a nervous wreck. I reached out to shake her hand and she returned it gracefully, tickling her fingers in my palm.
I continued to sip on my soju vodka while gazing in awe at the people coming and going.
Then as I enjoyed my final sip from my martini glass, I heard a whisper from behind.
"I get off work at 7pm. Haven't eaten all day, I'm famished."
"Cool, ummm, do you wanna grab something to eat?"
"Not a bad idea. I like Korean by the way."
Amber and I then visited the Seoul Food Meat Company. The interior was stylish and relaxing with rope lights hanging from the ceiling. The place is big with Panthers fans as well as Georgia Bulldogs and it's located adjacent to Let's Meat Kbbg (where I went yesterday and gorged myself to near bursting with pork belly, butt and pork tongue)
The menu was simple and interesting. We pick the meats and the sides and everything is shared. Amber ordered the fried tilapia with sesame seeds and tempura sauce and corn on the cob with parmesan cheese. I ordered the smoked brisket and the fire chicken – kimchi hot and smothered in mozzarella cheese.
While I drank my soju straight up, Amber insisted on getting the strawberry flavor. She claimed it tasted like gasoline. I don't think it taste bad at all, but I understand why she wants it to taste better. It was mild and fairly neutral with no after taste. Soju definitely goes where vodka cannot tread. The benefit of soju is that there's low alcohol level, about 20%. So you're drinking a lot of it, and it may sneak up on you. That's why it's the staple of Korea, and now has become the most popular drink in the world.
When the order came out, it was clear that they had made a mistake. It was supposed to be a whole fish and fried. But instead the dish resembled morsels of chicken smothered in cheese and hot sauce. Tasting the dish confirmed that it was poultry not seafood. We alerted our server and was surprised that she took the whole tray back. What came back was just the brisket and we waited a good 20 minutes before the tilapia came out. By that time the brisket was cold.
Overall, I was impressed by how Charlotte is expanding into a world class city with a wide variety of ethnic food. The Queen city's impressive skyline is growing by the day and there's so much to see and do here (Charlotte is known as the Queen City because it was named for Queen Charlotte, King George III of Great Britain's wife.)
I was pondering over a load from Atkins, VA to Chicago or to New England. There was nothing coming out of Charlotte. But Atkins, a three-hour drive away and in the mountains had plenty of new trailers getting shipped all across the US.
As I was walking I noticed an advertisement for "Band's Visit". Unbeknownst to me, I was walking right by the Knight's Theater and the show was opening tonight. I want over to the loading docks to see that the crew was still offloading. Wow, this is show business.
I returned to my truck and decided to grab a bite at the Gin Mill.
Due to revitalization and a huge influx of millennials, Charlotte's South End is no longer your father's neighborhood. The younger, trendy crowd are looking for a good mix of bars, clubs and restaurants, only a short ride on the light rail or a quick hop on the scooter from the throbbing heartbeat of the city. The Gin Mill is one of these places that have transformed to reflect the gentrification and new generation. Established in 1927, this restaurant, has been rebuilt next door, now three times larger with an amazing menu, but retaining the old character of the original beloved hangout.
Walking into Gin Mill, you'll see a mix of high top tables, booths, and bar stools surrounding simple and spacious all wood designs. The layout was well planned out. They have placed the bar, dance floor and restroom in a way that flows very well. It has a lot of energy.
I sat down at a table with a good view of my truck.
It was Tuesday, they were offering half price wings. I also enjoyed the flat bread.
I chose a spot where I could keep an eye on my truck. After finishing up my wings, I walked over to use the restroom.
When I returned to my chair, the first thing I noticed was that my truck was gone. I certainly could not miss the 13'+ height of my sleeper.
How could something that big be there and 10 mins later after a visit to the rest room disappear.
I quickly paid up and departed the restaurant to walk over just to be doubly sure this wasn't an illusion.
I saw a sign with the name of the towing company.
"It will be $1,500 to get your truck back"
I felt like I was getting fleeced. How could it be so expensive. How could these tow truck drivers be so overzealous, vicious, and have no heart.
And how did they tow my truck so quickly. The only safe way to tow a bobtail from the front would be to disconnect the drive shaft to keep the tranny from turning. Without doing so, would damage the transmission. Even if the tow was only a mile or two.This is because the transmission is not lubricated well enough.
I caught a Uber right away to retrieve my truck. Guess I wouldn't be going to the show tonight. I headed straight out of town towards the mountains in Atkins, knowing that there would be a ton of loads coming out of there.
After picking up my truck and footing $1500 to get it out of the yard, I had no choice but to head back to Charlotte to see the play.
An Egyptian band gets stuck in an Israeli dirt town for the night. What was supposed to be coughed up as a simple but embarrassing mistake turned out to be a life-changing ordeal for the eight-member band and the astonished residents of the small town.
Songwriter, David Yazbek, whose mother is Jewish and father Lebanese, decided to fuse two cultural backgrounds with his new Broadway show, The Band's Visit by telling a story about two antagonistic cultures and finding their commonality.
The Alexandria Ceremonial Police Orchestra from Egypt was invited to Israel to perform at the opening of the Arab Cultural Center in a cosmopolitan Israeli city.
When they arrive at the airport in Tel Aviv, the group leader, Tewfiq, directs the adventurous officer Haled to purchase bus tickets each member. At the ticket office, Haled asks the clerk for a ticket to the city of Petah Tikvah, but due to his thick Egyptian accent, she misunderstands him and instead sells him tickets to the isolated dessert town of "Bet Hatikva."
They take the wrong bus to a remote village in the middle of the Negev Dessert. They are then forced to spend the night with the locals, many of whom are initially unfriendly to the Arab visitors. After all this is 1997 and only 30 years prior, the Egyptians and Israelis were engaged in a long-fought battle on the Sinai Peninsula.
Luckily, Dina, the cafe proprietor, becomes attracted to Tewfiq, the conductor. The band decides to perform for their accidental hosts and the music is enjoyed by everybody. The two groups form a new liaison, and even though the plot is rather thin, the music and acting is thick with talent.
The play is sensitive and touching and is brimming with hope and humanity. Along with the powerful music, there are many instances of silence where both the audience and cast dissects touching emotions in peace.
With music, there's dancing. And in dancing, there's all kinds: tap, ballet, jazz, hip hop, modern.
The Band's Visit will caress your heart while entertain you. It's easy to see why it won ten Tony Awards becoming the best Tony Award Musical in 2019.
Even though I played a small role in their transport, I was glad to be a part of the effort to move the show to the south for others in Carolina to enjoy.