It was early February, and Old Man Winter was still pulling his iron-fisted punches. Despite the looming dangers of winter snow storms, I was eager to get the rig on the road.
The only thing keeping me from doing so was a nagging landlord tenant dispute on Bruce Place. Sheena was still fighting eviction, tooth and nail and I wanted to get her case resolved while I was still in town.
So while I waited earnestly for my trial date, I decided to fly to Dallas to see Danielle – a week to clear my mind and soak up some Texas-raw, lustrous sunshine. Amazingly, that short respite worked wonders – when I regretfully headed home to the frigid beltway, I felt reinvigorated and refreshed
Sleepless Night in Airport Terminal
I've spent many restless nights at foreign airports, but never in my wildest dreams in my own hometown. When I arrived at Washington Reagan Airport, the Metro had promptly shut down for the night. Since I had neglectfully forgot to bring my house keys, I didn't want to disturb my slumbering roommates, so I decided to hunker down.
In DCA, you can't actually sleep in the concourse — they close that down and do security sweeps after midnight. So I slept in the main terminal, and by 4am I was briskly awoken by fliers arriving several hours early to line up.
With the huge volume of passengers, the weekend had to be right around the corner. And it would be the most unforgettable Friday in my topsy turvy-trucking career.
I was aghast when I called FMCSA, the Federal Motor Carrier Safety Administration. They informed me that my Operating Authority application had been cancelled and I needed to resubmit my paperwork. Because of the pending trial, I had missed my year-long deadline to purchase trucking insurance and now I had to go through the 30-day waiting period again.
I rushed to the library to print out a bunch of paperwork to get signed and submitted before the weekend arrived. I could kick myself for letting my Authority lapse, but this was par for the course in this industry so c'est la vie. Now that the admin was behind me, I could finally take a breather. I would head to the local watering hole.
Then out of the blue, I decided to make a surprise visit to one of my tenants who hadn't paid rent since November. He was only three months behind and in a couple of weeks our dreaded Landlord / Tenant hearing would be upon us. Again par for the course as a rental property owner in the District of Columbia.
Why I would make a bee-line to see Ty instead of heading to the obligatory Gordon Biersch at the Navy Yard is still a mystery.
It would take Ed McMahon holding up a large Publishers Clearinghouse check for Ty to open the door. He wasn't paying rent and he clearly didn't want to speak to me. But something that day told me to try anyway.
As I approached the apartment, I saw a couple of guys installing a mailbox by the door. One I recognized as Labros the president of the Association, but I had never actually met him in person
I climbed the three flights of stairs to the top and knocked repeatedly on the door. There was still Christmas decorations – kinda late to still have Santa hanging still greeting visitors long after he's returned to the north pole. After leaving a note on the door, I headed back down and rushed out the building. Couldn't get me out this hell hole any faster.
Then an inner voice prompted me to go back and introduce myself. My autopilot took over.
"Are you Labros?" I asked, ashamed that I even had to.
"Ah yes, are you an owner here? What unit number – let me get you a copy of the new mailbox key." He seemed happy to meet me.
"So I'm here to see Ty, who lives in #30. Has anyone heard from him?"
"Don't know him. I'm afraid. I don't live here, so I don't know everyone in this building."
I quickly thanked Labros and made my way out.
"Wait!" He suddenly called out as I was entering my car. "A policeman was here earlier and was looking for someone in #42. Apparently someone made a welfare call."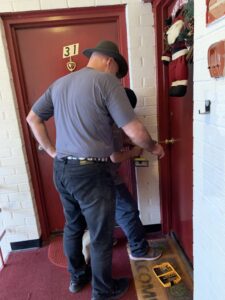 The moment he said that, our eyes made contact and we both raised our eyebrows as if coming to the same conclusion.
This was no longer a tenant ignoring his landlord to avoid paying rent .
"My Goodness, we have to get in ASAP!" I shouted. "And sadly I don't have a key."
"No worries. Just pay my contractor $50 and he'll drill through your lock."
Labros quickly gathered his tools and along with his repairman started drilling through the lock.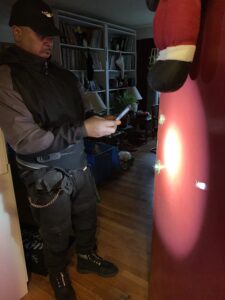 Thankfully he had all the tools available and after 5 minutes he had broken in and was inside.
Immediately, I knew we would make a grim discovery.
It smelled like a million dead rats and I had to cover my nose to keep from gagging.
I walked into the bedroom and found Ty lying on the floor. He was fully clothed and both the sheets and comforter had fallen off the bed disheveled on the floor.
I immediately called 911. When the police arrived, they were both surprised and dismayed since they had arrived earlier that day to check on Ty.
Minutes passed which seemed like hours, then the Office of the Chief Medical Examiner arrived to recover the body.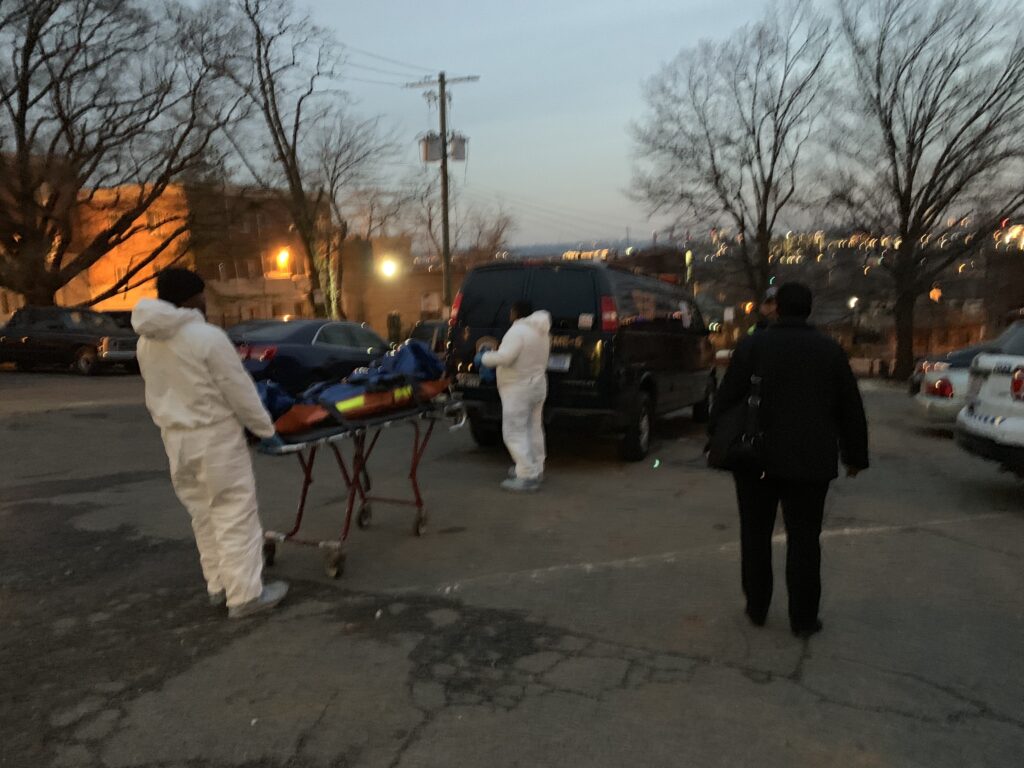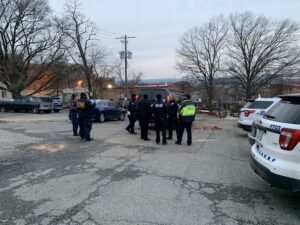 I then changed the locks and headed home to see who I could contact.
There is not textbook on what to do when a tenant passes. There was a lot of junk and clutter, but I had to first work with his estate. I had to immediately remove some trash including soiled clothes.
Unfortunately, I did not know any of Ty's NOK. He had been my tenant for over 15 years and all the family members that he had listed on the rental application were deceased.
I went on Facebook and found Ty's page. Then I started searching for some of his friends who worked at Home Depot. I then contacted KC, a colleague, who was filled with grief when I broke the news.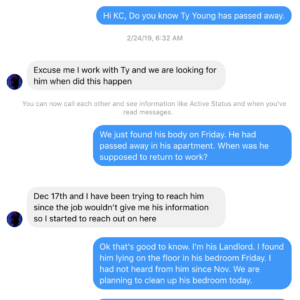 Thankfully, KC got me in touch with Ty's cousin who was the NOK on the will. When I spoke to Betty, she was pleasant and happy to talk to me. It turns out that it was she who had contacted police to conduct the welfare check. And if it wasn't for that, I would never have discovered Ty's body that day.
It was quite traumatic finding a dead body, especially a tenant who I've known for years. But the hard part was not over. Next we had to do the biohazard cleanup. Ty's body had been in the apartment for a while. Luckily the power was off, so there was no heat and it was the dead of winter. So his decomposition was not that advanced.
Then I had to coordinate with the estate to see what items they wanted to keep and what items we needed to dispose. Ty was a music aficionado and freelance DJ and had the largest vinyl record collection I've ever seen.
This wasn't easy but little by little, we finally got it done.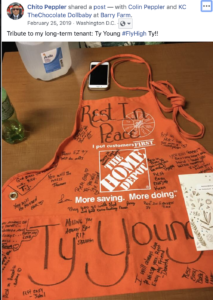 ____
Ty and Dywane moved to Wade Road in 2003, a year after my ex and I purchased the condo. I immediately fell in love with the city view outside the bedroom window. Back then DC was not nearly the same as it is today. There was no Nats Park, no development at the Navy Yard. In fact much of where the ballpark is today was a barren wasteland.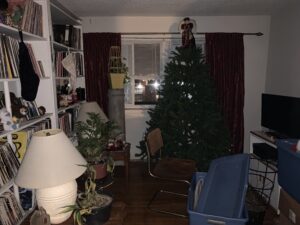 Dywayne died 2 years ago after a multi-year battle with cancer. Then Ty was not the same after that. He slipped into depression, and he rarely answered my call. I would still get the rent, but usually late. The last check I received was in November. Then I did not hear from him for over two months. This wasn't that unusual of Ty and I figured he was avoiding me for the rent.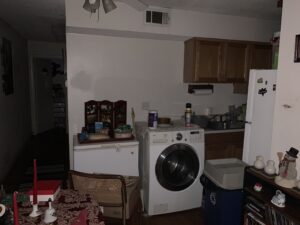 After working with the estate to move Ty's possessions out, came the back-breaking process of renovation. Ty's body was on the floor for a good few weeks, and there was a stain on the floor. I hired James Bae, Sheena's father to sand the entire apartment. He did a great job of replacing the wood and adding a coat of lacquer.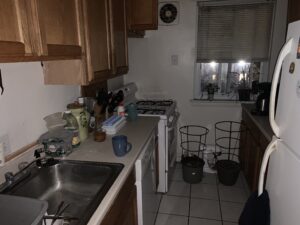 Where Ty and Dywayne kept their massive record collection, I decided to knock down the wall and build a breakfast nook.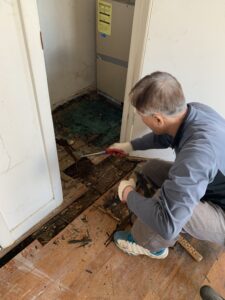 Where Ty and Dywayne kept their massive record collection, I decided to knock down the wall and build a breakfast nook.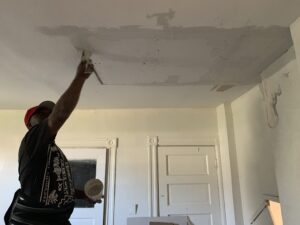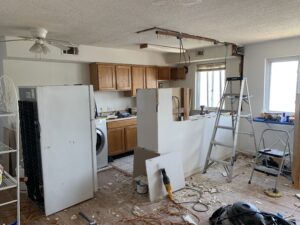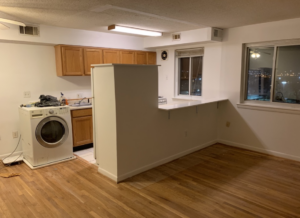 Here's the final product – we moved the bookcase and opened up the kitchen wall and built a breakfast nook.
____