I arrived at the Ocean Beach Resort Club hoping to check in early. I got a great deal from a third party site for $80.  When I arrived in the lobby, I was met by an amicable lady who asked if I was married.  I was struck by the oddity of this question and wished I had lied to get her off my back.
"Nope, I'm divorced," I responded.
"Good, and I see you're over 25 and make over 50 Grand a year."
"Unfortunately, yes," I acknowledged.
"Great, please come see me when you get done checking in. I have some nice gift packages for you."
Since it was December and off-season, I was able to check in early and even got a free upgrade to an ocean view.   There was a $27 tax & resort fee, so the grand total was just over $110 – a splendid deal for beachside Virginia Beach.
I was all smiles and ready to hit the pool until I ran into the probing lady again.
With a big grin, the busy body asked if I could attend a timeshare presentation the following morning after I checked out.  I was reluctant at first, but like a buzzing mosquito, she was determined. She also shared her personal plea. If I signed up, she would meet her quota for the day. Since she worked strictly on commissions. She didn't get paid unless she was able to get potential customers into the front door.
"For 90 minutes of your time, you'll get a $100 gift card and two free nights at any of our resorts around the world," she declared.
"Any strings attached. Does it include resort fees?" I inquired.
"All inclusive, you can use it right away to extend your stay this week."
Since I didn't have anything planned, the weather was still too windy to paddle board, and I wanted the desperate sales lady to get her compensation for the day, I relented.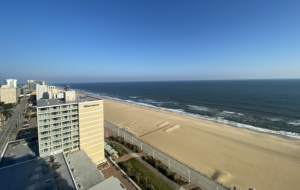 Nevertheless, I got to enjoy my 16th floor room with an expansive view of the beach, the 10th floor sun deck with a fire pit and all three pools the resort offered, each with unique features.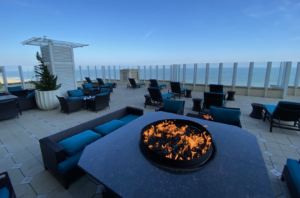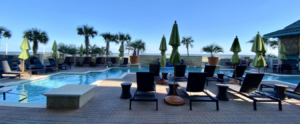 Check out was at 10am, unusually early for a hotel, but I see how this time fits in to accommodate for the presentations across the street.
The pitch started promptly at 11am and I listened attentively, taking a lot of notes, asking a lot of questions, and even shooting the breeze with saleswoman.
I know at these presentations, it's best not to let your guard down, but I was immediately comfortable been myself and transparent about my income, hobbies and interests.
The pitch they gave me today differed from the one five years ago when I did sign on the dotted line.
Back then they offered me a deeded timeshare at the newly constructed Oceanaire resort for one week in January.  The unit was posh and modern and had a nice balcony where you could hear the ocean waves but not see it.
Still the notion that I would be one of 52 lawful owners of a beachfront condo for only $15,500 appealed to me. If I wasn't available during my assigned week, I could rent it out or swap my week with other timeshare owners within the resorts exchange.  Once the fee was paid in full, I just had to pay the yearly maintenance fee of approximately $1,350 which covers property tax, repairs, maintenance and upkeep of the resort.
I signed the deed because I erroneously felt that I would be getting ownership in a beachfront property for a fraction of a cost.  They would finance it at an exorbitant 17% rate, and I would only pay $500 down. But when I returned home to DC, my housemate had completely moved all my furniture from the living room to the basement resulting in utter chaos. Because I did not want to deal with a timeshare purchase at the same time I was dealing with having to deal with issues at home, I called Gold-key to cancel my contract. Lucky for me, Virginia has a 10-day buyer's remorse law, and I took this as a sign that this was not meant to be.  This turned out to be a blessing in disguise. With COVID, I would have had a difficult time renting out my unit this year.
This time, their pitch was not for a specific timeshare or week out of the year, but for points which is more flexible and versatile.  My saleswoman brought in her director who is a military veteran hoping to appeal to my inner side. They offered me the Getaway package – 1500 points a year, which resulted in up to 21 days at any of their resorts worldwide.  In addition, I could use the points for participating hotels throughout the US, perfect for my work since I'm an owner operator truck driver who needs a place to relax every now and then after a long journey on the road.
And unlike a regular timeshare that is for perpetuity, this one expires after ten years. The total cost was $17,500 for the entire package plus a maintenance fee of $1,280 per year.  If I put down a deposit of $3,000, I would have to pay $265 per month (plus the annual maintenance fee) which equates to $144 per night at the resort/hotels.
Though not a bad deal, I informed Diamond that I may not need to stay 2-3 weeks in a resort/hotel a year.  Plus I could probably get a better rate online using sites like Expedia and Hotwire.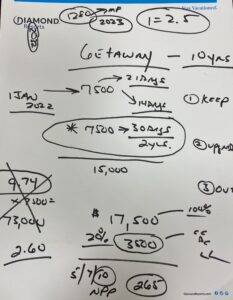 Plus what would be the benefit for signing up.  I don't really get any equity and there's no deed that says I own any part of a specific property.
"Yes, you do get ownership," the timeshare director said.
"I don't get to own a piece of property. The only thing I'll actually own is annual expenses and liability," I retorted.
Now, I'm not saying timeshares are not bad for everybody.  If I was married and I was on the road 21 days or more every year, then maybe this would be appealing.  But even so, I could probably get a better rate shopping around, and I always don't need the luxury of a nice spacious resort with a full kitchen. With my line of work,  I liked to eat out and most of the time, I prefer to sleep in my truck.
So by 1:30pm, I politely declined for the umpteenth time. The team then transferred me to another department who decided to pitch another deal that was only a fraction of the cost but only for two years. At that time, I also declined stating that I could not even afford the $2,495 for 4000 points at their resorts.  I'd much rather pay as informed my salesman that my parking expired at 2pm.
But the salesman would not let me leave. He kept on pressing me and started to say things that were down right derogatory. Finally when it  seemed  like I would just hunker down until they released me, the salesman threw in the towel.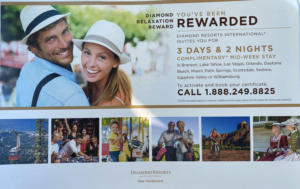 Diamond was not been entirely honest with me. I did receive my gift – the two free nights could not be used to extend my stay this week since I had to wait six months to activate it.  And when I called them, most of the places advertised on the coupon was not available – the only two that were: Las Vegas and Lake Tahoe.
Plus the presentation took a lot longer than the 90 minutes that they promised, so I now had to pay for parking.  Overall, I'm not regretting sitting through the presentation. I had learned a lot about their business model, and I'm glad I just told them No. So they were not honest to me about the presentation and gift package. What makes you think they were totally honest on what they tried to sell me?