The weekend before the Electoral College cast their vote for President, Trump supporters returned to the Nation's Capital to make one last-ditch effort to stymie the election process.
Several thousand Americans from returned to DC to voice their concerns of voter fraud and to express their hopes that Trump can somehow turn things around.
As I stood on Pennsylvania Avenue within earshot of the Freedom Plaza, I listened patiently to speaker after speaker state why Trump shouldn't concede and why he should be given four more years.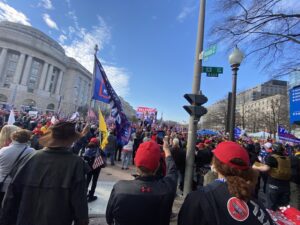 "I went to bed that night seeing a huge lead in Michigan, Wisconsin, Pennsylvania and Georgia, only to see it whittle down and get stolen by the news media," cried an ardent Trump supporter. 
Another Trumper with a megaphone then started a chant,  "CNN S*cks, Fox News S*cks."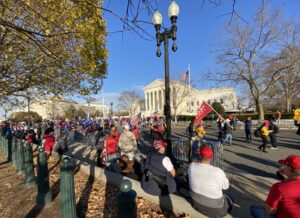 This was followed by claims of illegal ballots and Dominion machines switching votes to Biden. Other speakers included recently pardoned,  General Flynn and Mike Lindell, AKA the Pillow guy.
What a tall tale and crazy conspiracy theory, I thought. My initial impression was that these were all lying hypocritical egomaniacs. But then I decided to set aside all preconceived notions and just listen unconditionally to what they had to say.  And more importantly understand their true motivations and aspirations.
As I peered at each hopeful face that walked by me and pondered over their outlook, I began to feel an uncanny sense of connection.
Although, I did not believe in their plight, I saw many of my friends here, young and old, some raising signs, some chanting, all happy and hopeful that this "stolen" election would turn magically in their favor.
Actually, they would never be my friends – these were people who I've never seen and would likely never see again. But if I had met them in a grocery store, library or park across rural America, I would share a smile, happily introduce myself and hopefully make a new friend who I could embrace and respect, perhaps for life.
Haven't seen enough at Freedom Plaza, I decided to bike along Pennsylvania Avenue to the Supreme Court.  Amongst the sparse crowd, I ran into a formidable far-right contingent.  The Proud Boys were arrogant and cocky as they raised their fists in their  helmets and bullet proof vests.  
This motley, neo-fascist group was not going to leave town without some sort of scuffle. They tore a Black Lives Matter sign from the Ashbury United Methodist Church, then burned it.
The Proud Boys group chanted "F*** Antifa!" 

As in last month, the counter protesters had enough and hollered back.  Soon shouts turned into skirmishes resulting in four people been stabbed near Harry's Bar and Restaurant, a local hangout for the fascist group as well as Trump supporters. A total of 33 people were arrested including six assaults on a police officer, 10 simple assaults and four riotous acts.